​
World of Final Fantasy, aka the best Final Fantasy game lurking on the horizon (hey, I genuinely believe this!) has seen a new set of screenshots publicly released, now that the Tokyo Game Show has wound down for another year.
I am Linnaete, and I will be your tour guide as we venture across the land of Grimoire. If at any point in this trip you are too overwhelmed by the cuteness to continue, please raise a hand and I will do all I can to assist.
Ena Kuro - this mysterious woman appears one day and invites the children to enter the world of Grimoire. Why? Something to do with lost memories.
And naturally, you and your sibling decide the only logical thing to do is to jump through the portal unsupervised to a land of mystery and dangers. As you would, of course.
Welcome to Cornelia, named after the first kingdom you visit in the very original Final Fantasy game. For some reason, it now looks vaguely like Ishgard from FFXIV.
Superheroes gain abilities such as flight, super speed and the ability to create web slings following a bite from a radioactive spider. These two have the formidable ability to err...turn from Kingdom Hearts-esque default proportions mode to super cute chibi form. And they can wield Pokemon without having the sufficient gym badges. That's OP stuff right there.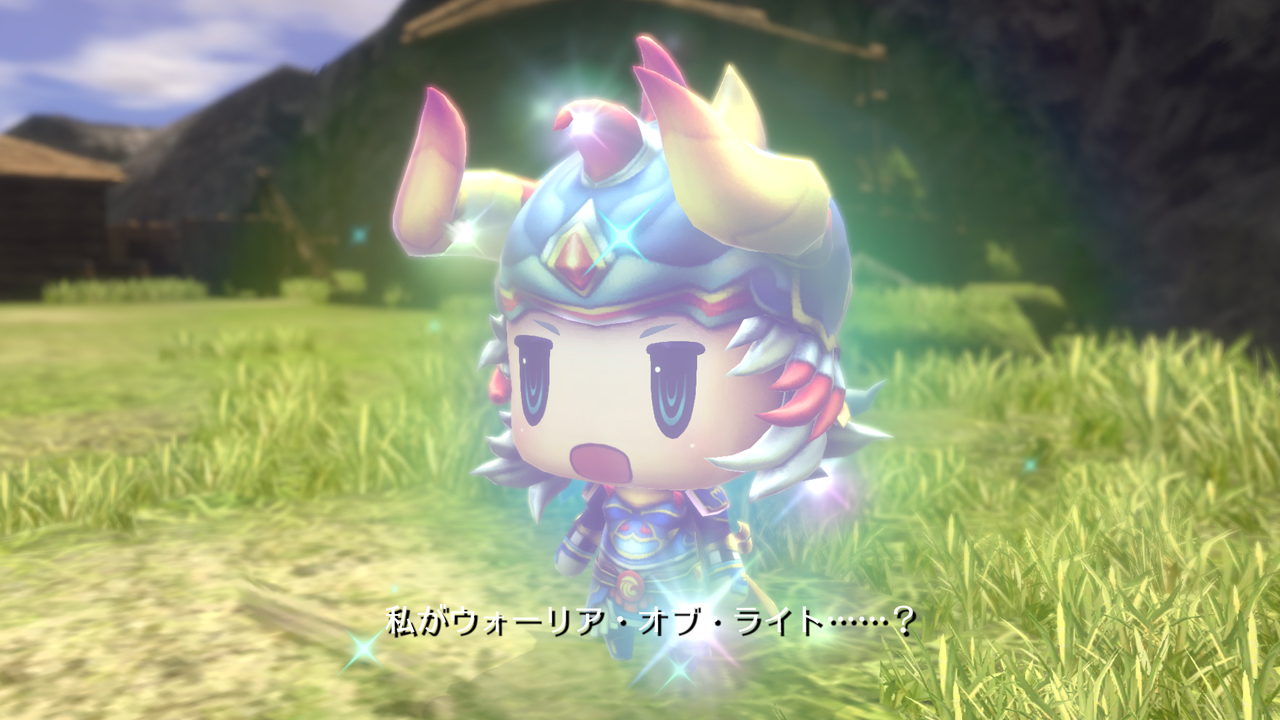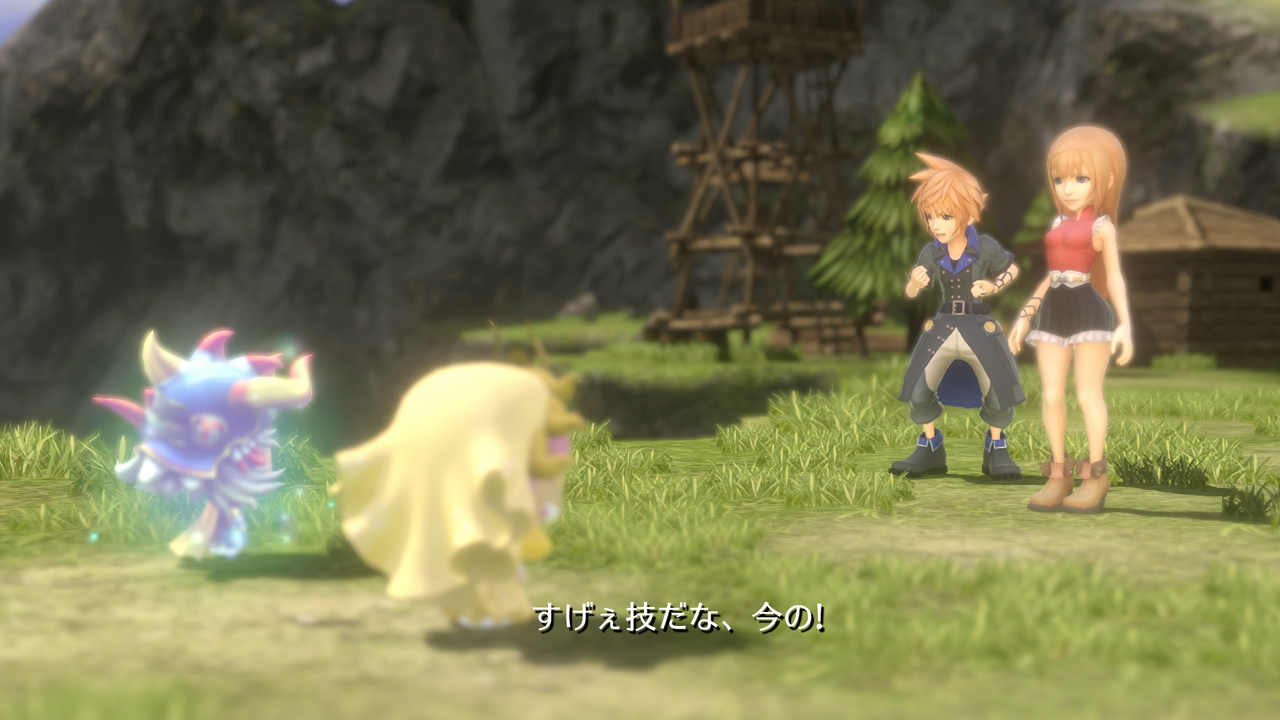 Oh, right. We're in Cornelia, so naturally we'll be meeting our Gary Stu Warrior of Light here, along with Princess Pea-err, Sarah.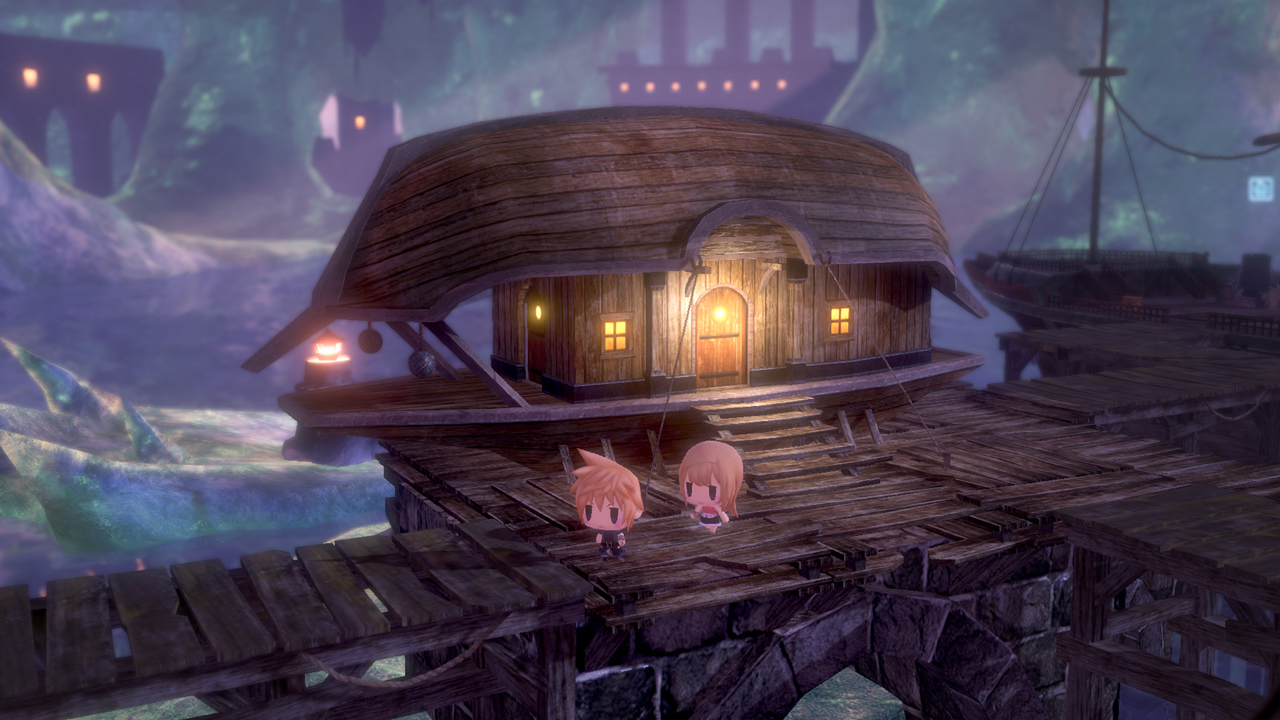 A port town, supposedly. Rumours are abound of there being a pirate ship docked.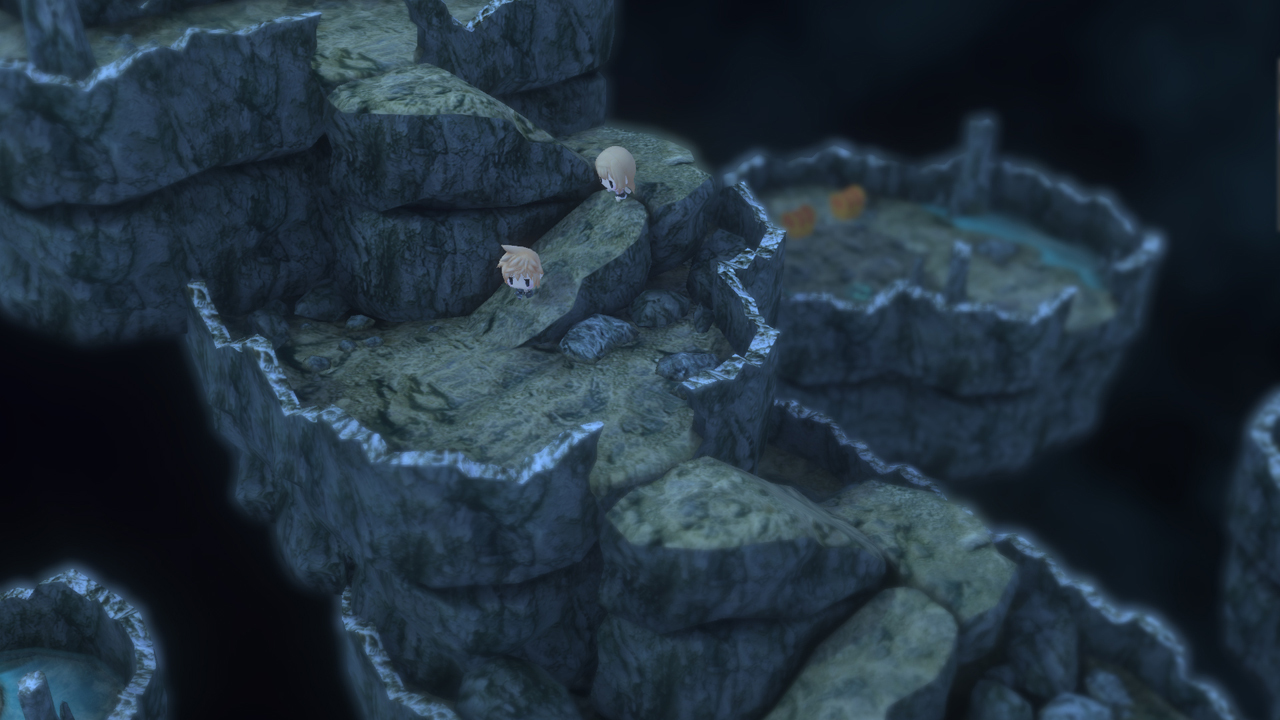 Even the dark caves are cute! This is "Nebula's Cave", where something significant meets our two protagonists on the other end.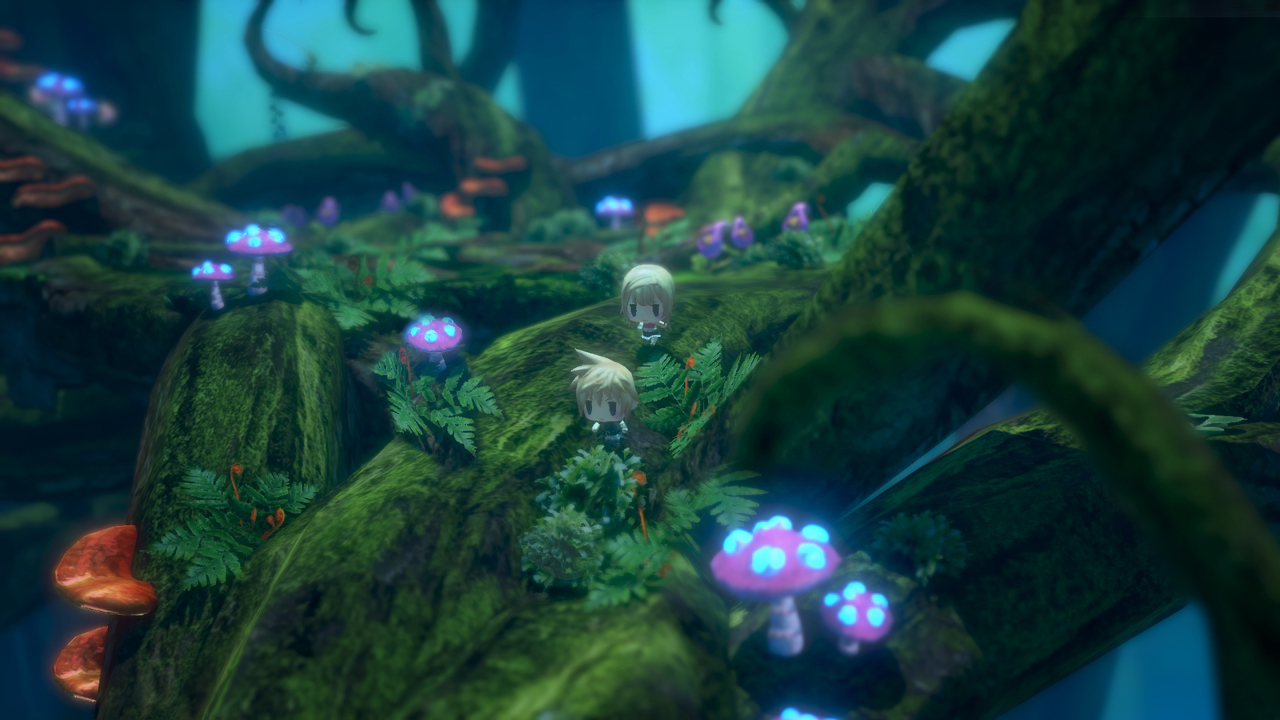 Sunleth Waterscape? Is that you? No, it's a forest level, aptly named "The Forest of Light". Travellers can get lost here, so logically speaking, this dungeon shouldn't be a straight line corridor, eh?
Lake Bresha? Is that you? Why am I getting deja vu here? Are they reusing FFXIII assets or something? It appears so, because reading off the script here, it tells me that this crystalline location is in fact an ice level called Icicle Valley. Careful, don't slip!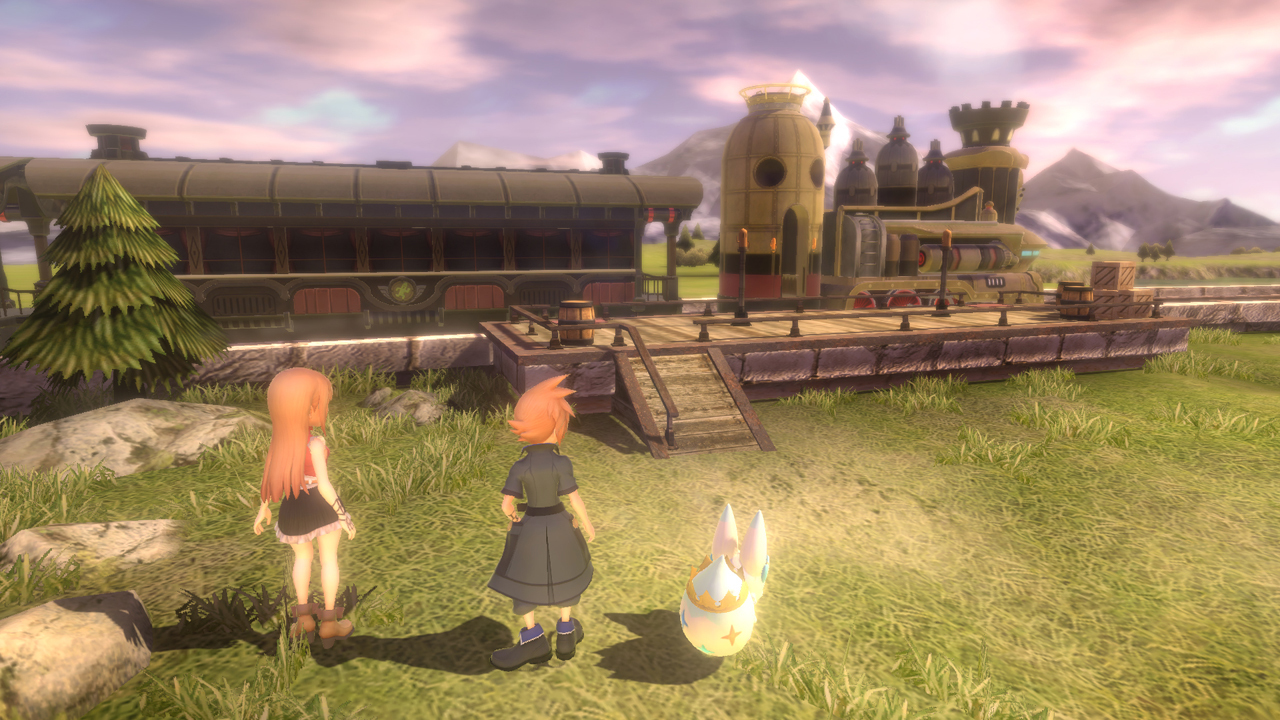 Choo choo! Cactuar train service. It is still so much more reliable than your local train service. Book a ticket now to avoid the passenger queues that will likely never appear. Also, don't bring Selphie along, unless you want an impromptu song about trains to stick in your head for the entirety of the rest of the journey. :selphie:
Conductor Cactuar here is a "Mirage". Mirages in this world are the monsters and Guardian Beasts that reside in the world of Grimoire. His job here is to help guide you across this realm whenever you decide to take the train. The rules are simple. Show him your train fare, don't bring Selphie along, and no legal lawsuits against the train company if you ever accidentally find yourself on the receiving end of a thousand needles.
Pokemon, gotta catch 'em aaaaaall! I know it's my destiny. Pokemon, ohhhhh, you're my best friends, in a world we must defend!
Stacking is a key mechanic in this game's battle system. You can stack with allied Mirages for enhanced stats and access to special abilities. When you are unstacked, your AP will replenish at a considerably quicker rate. AP will be fundamental for using stacked special abilities. Having sufficient AP will also decrease your chances of being felled in one shot in battle. Balance this out and play tactically with your Pokemon!
Meet Lightning. You might have heard of her. If for whatever reason you have always wanted to see super-chibi Lightning perform Zantetsuken, here you are.
Guardian Beast Mirages assemble! Shiva, Ramuh and Ifrit will join you on your quest and....pahahahaha, cute Ifrit. That's adorable!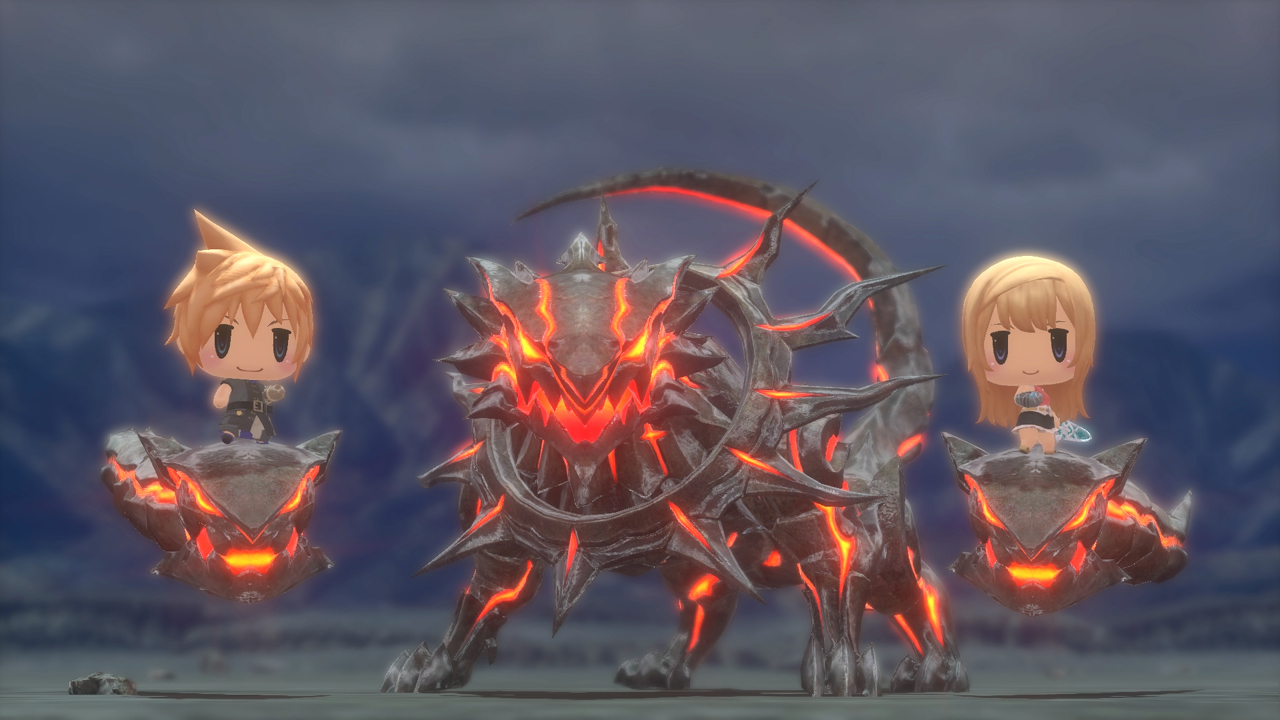 Finally, we have a look at Mega Mirage Cerberus. This is not a Guardian Beast Mirage, but a powerful entity you can create if you exchange all of your party's active Mirages. Mega Mirages are essentially extra powerful Mirages that fight on your side.
​
World of Final Fantasy is due sometime next year for PS4 and PSVita.
Siliconera | Nova Crystallis
Last edited by a moderator: