Βρεκεκεκὲξ κοὰξ κοάξ
Staff member
Administrator
Social Media Team
Veteran
Joined

Jun 26, 2008
Messages

9,360
Location
Gil
FFXIV

Polyphemos Bromios
FFXIV Server

Moogle
Free Company

KupoCon
I've come up with a new voting thread!
​
People have come up with their new recipes (and Ignis has jotted them all down and stolen them). It is finally time for us to vote for our favourite FFF recipe for 2018!
We have an excellent selection of main courses and desserts this year!
Please do not vote for your own entries.
---

FFF's Recipes:
​
Recipe 1:
​
Name of dish:
BBQ Teriyaki Grilled Chocobo Over Rice
Photograph:

Recipe:
Chicken (chocobo) tenders or breast
Wild rice
Jack Daniels BBQ sauce ( Gysahl bbq)
Teriyaki sauce (Pansha sauce)
Also fried potatoes
Garlic salt
Garlic pepper
Garlic and herbs
-
Recipe 2:
​
Name of dish:
Chocobo Egg's Omelette
Photograph:
Recipe:
3 eggs
seasoning (I added salt, pepper, chili powder)
vegetables/leaves of your choice (I added chopped rocket leaves)
mozzarella cheese (lots of it)
-
Recipe 3:
​
Name of Dish:
Paissa Curry
Photograph:
Recipe:
White Rice (a Paissa named Shace, beloved brother of Polonius)
Kashi Oats Cereal
Almonds
Chocobo (chicken)
Potatoes
Carrots
Greek Yogurt (for a sweet savory flavor)
Chef's note:
According to Linnaete who still actively hunts down paissas, this dish is out of this world!
-
Recipe 4:
​
Name of dish:
Artemicion Moogle Mousse Jars
Photograph: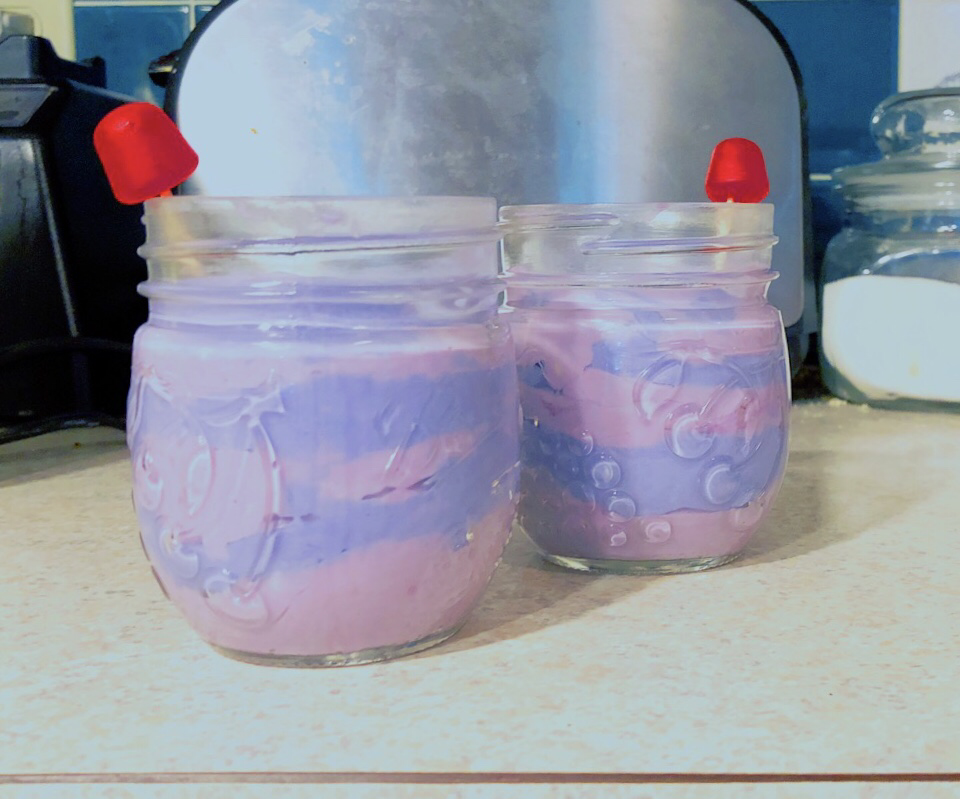 Recipe:
Heavy Cream
Cream Cheese
White Chocolate Chips
Sugar
Vanilla Extract
Dots Gummy Candy
Purple and blue food coloring
-
Recipe 5:
​
Name of dish:
Sylkis Delight
Photograph:
Recipe:
Cookie:
2 cups of flour
3/4 cup of cocoa powder
1 teaspoon of baking soda
1/2 teaspoon of salt
1 ¼ cups (2 ½) of soft Selbina butter
2 cups of maple sugar
2 apkallu eggs
2 teaspoon sticks of vanilla extract
1-2/3 cups of peanut butter chips
Icing:
1 cup peanut butter
2 cups of maple sugar
1/4 cup of a jug of Mary's milk
1/2 cup soft butter
3 teaspoons vanilla extract
-
Recipe 6:
​
Name of dish:
Drops (Red, Blue, Clear, Purple, White, Black, Yellow, Green)
Photograph:
Recipe:
Elementally charged sugar crystals.
A spherical fruit-flavored candy.
Effects
Red: Slow Resistance +3
Blue: Silence Resistance +3
Clear: Blind Resistance +3
Purple: Poison Resistance +3
White: Stun Resistance +3
Black: Sleep Resistance +3
Yellow: Bind Resistance +3
Green: Heavy Resistance +3
EXP Bonus: +3% Duration: 30m
(Duration can be extended to 60m by consuming multiple servings)
Sells for 6 gil.
-
Recipe 7:
​
Name of dish:
Flavourful Flan
Photograph:

Recipe:
1 liberal dollop of Nutella / hazelnut chocolate spread (the body of the flan)
2 white chocolate sprinkle pieces (eyes)
Chef's note:
Do not use cutlery. Your spoons / knives / forks will bounce off. Lick or swallow whole.
-
I thank all of you who entered!