I thought about writing something cool on the name of my topic. Finally, it's just a simple question.
One moment ago I planned to post an article on a topic where people in the forum can talk about their feelings during the day. Some are on a good day, but not the other. It seems that our life is not easy and we must make efforts to obtain the best things. For me, every day is a challenge in creating something, no matter how good or bad I feel. Maybe some of us can do it by designing, composing, or doing something about art creation while others play video games. Well, I can't make music except to listen to them. My mastery of design is also insufficient but just sufficient so that I am sensitive to beauty. And the only thing I am possible to do is writing.
Therefore, I would like to create myself a sort of scene in a game, i.e., a new FF game, that each character communicates in a particular situation. These scenes have no connection with the new plan of Square Enix, but they are not really complete fanfiction because I write imaginative dialogues only. I may also include a soundtrack, music, and images, or names of actors or actresses in real life (if applicable) for each scene to give you visibility. There are many reasons to do so, but it is mostly because my words may be too long, whereas I am not a writer who uses English as a mother tongue. By the way, you guys can write creative dialog or other scenes in the FF game. I will love them. And it's even better to discuss all our posts here. With this topic, I hope you will have moments of relaxation and wonderful.
The actors and actresses I choose to apply to any character are from my imagination. That means their movies aren't about every scene in the stories posted here. The soundtrack and music are from other video games or movies (if you guys agree that the soundtrack of the film is equally good for a game).
Actually, there is no rule if you want to choose some music or actors and actresses for your stage scenes.
About the story stage, they may in a FF game remake or a new one. I prefer new ones with remakes.
The first part of my story in a new FF game is in this post:
https://www.finalfantasyforums.net/threads/v5-whats-your-mood.64416/page-5#post-1134362
1. The main character:
Keanu Reeves plays The man or R (That name is quite... ridiculous and one character below feels as well).
2. The second main character: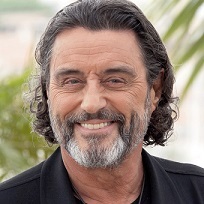 Ian McShane plays Doc (It is in fact a title, but also funny).
3. The wife plays Charlize Theron, the General plays Nicolas Cage and the secretary plays Lily Collins. There are other characters but I will update soon.
Okay, so let's begin.

Scene 1:
The protagonist and his family at the end of the battle.
"Who are they?" The wife talks to the man, "They resemble Androids but know how to use magic… Why did they try to kill us?"
The wife is starting to ask so many questions of the man that he cannot answer them. Since he feels exhausted after the battle, he starts having words with his wife.
"Dad." Their little girl touches her hand to the man and talks to him.
"What?"
"I saw someone before leaving home". The little girl points at the house burning. "A woman… has wings on the back"
"Dad…" The girl continues, "Is she an angel?"
"Maybe." The man tries to smile, "If they have wings."
"But dad…" The girl starts to cry, "You told me once angels never feel angry unless they have lost their wings. Why's she so angry?"
"Oh, my dear!" He holds the little girl, "You're just scared of it. Everything will be fine. Don't worry."
"Daddy." The girl hugs him and cries, "I could see that woman was burning our home with her eyes. I'm so scared…"
The man can understand how his little girl feels even if he has seen nothing but those enemies that burned the house during the fight. But he has no idea what's going on with him or his family.
Scene 2:
The protagonist meets the second character for help.
The man comes out of the door to visit Doc after ensuring that his family is safe.
"Thank you for helping us. I don't know how I can handle this without your help." He says as soon as seeing Doc in the corridor.
Doc makes a sign to the man to come in the elevator with him. After pressing the button to go down, Doc starts talking to the man, "Let me clarify something. I know it will be very difficult for you, but you must return."
Just as the man is going to talk, Doc points to the camera above them and communicates by means of signs, "Do me a favor, do not tell our real names right here. Just call me Doc."
The man gets it, then he says, "I can't go back, Doc. I feel like my life is full of lies and dirty secrets till I forget my identity…"
Doc suddenly interrupts him, "10 minutes ago, I just received a loud report that a 2-year retired man took down 5 armed aggressors in his house. They even used magic, although they are all normal people...".
"It's my luck. One of them had tried to control my spirit, but he's just a normal person controlled by someone so I could deal with him easily."
"A piece of a tree trunk hidden in the ceiling of your house fell on his head… The report says so." Doc says and looks right into the man's eyes, "Then I guess you won't survive much longer, except to prepare something for a battle, right?''
The man is reduced to silence. Doc continues, "Ok. You know what? I think it sounds like our big problem of many years ago."
"Yeah. I still remember that night. A man knows how to use magic without using any tools or Android's support… A lot of our soldiers were vanquished and brainwashed by him. Someone said this man came out of the sky…"
"… with the wrath of the Deity." Doc smiles, "That's because this man has colorful eyes, but I only see him as very cute. Anyway, after a whole street was destroyed, we were so lucky to have somebody who made him an amateur in hand-to-hand combat."
The man is trying to say something because he thinks that Doc is looking at him closely, but the elevator door opened. Coming out, he sees a young soldier lying on the first aid stretcher screaming with pain. He approaches and realizes that the soldier speaks another language.
"Sir…" The nurse says while she is trying to keep the soldier calm down.
"He says that there is something inside his kidney…" The man talks to the nurse, "… and he needs an urgent surgery."
By listening to the soldier, the man continues to translate, "There are also some papers, including a health insurance card in his pocket. Find them and you'll see." The nurse does what the man says. Everything is correct. She, then, thanks to him so much for helping her. She also says, "Sir, you are bleeding. Let me help you." The man says no need to care about him. When she prepares to move the first aid stretcher, the man talks with the soldier's language, "Don't worry. Because of your skin, I see you won't die here now. Trust me." The soldier is weeping and wishes him luck. Doc sees what the man has done and smiles, "For a pensioner of 2 years, your two skills are still pretty good, huh!"
Going out of the camp, Doc tells the man, "Our country is doing military maneuvers with neighboring countries. Lots of people will be very busy so don't be surprised if someone gets sick but can't communicate here." The man says, "At least they're no longer in control of flying buildings…" Doc looks at the man, "Tomorrow I will go to see the General. I think he's busy afterward." The man tells Doc, "If you go there, please give me best regards to her." Doc gets it and says, "Whether you decide or not, you have to come with us or your family is going to get off the street. So I'm afraid to stop helping you, R." The man just stays quiet. Doc looks at him for a while, then goes away. He doesn't even hear the man say, "Hey! It isn't even my real name…"
Scene 3:
Doc at the meeting.
"You know the rule, Doc. Whatever you say just do not tell the real name of anyone here. Not even yourself." The General (G) sitting in the swivel chair talks to Doc.
"Ok, so tell me why you chose this guy?" He begins to ask Doc, "I'm asking you because I read his profile and now I see nothing from him."
"Well, so far we have many soldiers who are really good. But this guy… is the best…"
"You have 5 minutes, Doc, so just be quick". G points at his watch.
"Eh.." Doc goes on.
"Ok, stop." G raises his hand, then takes a phone in his pocket. Someone is calling to him.
"I will go there soon right after finishing my job here." G shifts away, turning his back toward Doc while replying to the call. Suddenly he laughs so hard, "Perfect, just book a room for me. My partner wants to see some Androids… Yeah... You know what I mean… Right, I have to go on now. Bye."
As Doc waits, he looks at the secretary (S) behind G. She looks at Doc and shrugs her shoulders.
"Ok, now go on." G throws his phone on the table.
"Well…" Doc breathes a sigh, "Every timeline has some heroes and antagonists born in wars and conflicts.."
"No more listening to the history, Doc. We have no time." G tells off.
"Ok… eh… This guy we're talking about here can be regarded as one of them but has a very terrible story before. At the age of 10, his family was killed by a gang, then they came to meet him in the apartment. After a short talk…" Doc stops a little when seeing G is yawning, then talks quickly, "He… eh, took down two gang members with his small gun which his father gave to him before then used a tiny but long spike to eliminate one green -beautiful eye of their leader talking to him…"
A pen swiveled in the fingers of S suddenly dropped to the ground. Her noise makes both Doc and G just look at her. She bends down to pick up the pen, adjusts the glasses on her face, and says, "Sorry, sirs."
"The guy…" Doc keeps talking, "was then chased by the rest of the gang. They had cars, motorbikes, and guns. But our guy was small and fast enough to hide from home to home..."
Doc clears his throat with a cough, then goes on, "And he escaped. 5 years later, he went to the gang house to defeat them one by one…"
"He's deaf, isn't he?" G suddenly interrupts Doc.
"Deaf? No. What do you mean?" Doc asks G but G just shakes his head and motions Doc to keep talking. Doc then continues, "… Where was I? Ah! In the gang house, right. The gang leader could stop the bullets with his blade. But with our guy, this wasn't a problem. After a fast but very noisy battle, he finally pointed his weapon at the leader's head lying on the ground. He just said ``dodge this``, then shot."
G pulls an irritated face, looks at Doc while S lowers her head.
"A few years later, I met him one day to invite him to join the military of secret operations and then a team of spies. I cannot speak to everything that he has accomplished so far, But I remember every soldier chanting a song like this…"
Doc starts singing, "Who does the army trust the most? Real Man! Who do the ladies love the most? Real Man! Who do our enemy fear the most? Rea..aal man! Aaaaa….", Doc raises up his hand and looks up at the ceiling so that he's reconstructing the emotion of the soldiers at that time, "Then a captain, who is also a royal prince, once spoke to him like this before jumping off the Mothership in a battle." Doc mimics the prince, loudly says, "See you in hell, R. Good luck!"
Doc has already finished his speech. Both G and S just look at him for a while. Then G turns his head at S and bursts of laughter. He stands up, says, "Looks like we have a second Sephiroth here, although the guy you're telling me likes to use guns more than a sword. But…", he comes to Doc, slowly says, "I feel like you better become a radio guy who tells a... sensational story than a doctor. The guy... Sorry, what's his cover name?". Doc plans to reply to G, but S has already replied, "R or Real Man, sir." G says, "The Real Man, right! Doc, I don't care if his name is Ramza, Red or Rinoa…" Doc interrupts, "Excuse me for a moment, but Rinoa is a female, sir. And Red is…" G cuts him off, seems indifferent, "Who cares?! You know what, Doc? I think this guy would rather be a man taking out my dog than a… doorkeeper. I knew a super-soldier before who could cut a meteorite with a saber that's like a big butcher knife." Both Doc and S try to help laughing while G keeps saying, "… but I only see this guy, R, could beat some sort of mediocre mob and some soldiers congratulated him with an absurd song. Oh,… by the way, You should have left the prince out of it when you're trying to make this story... bigger."
G stops talking and goes back to his chair. Then he says, "Anyway, no need to be worried, Doc. I've heard about his situation out there. Because of your status in the military, I'll approve him for the exam early tomorrow morning. However…" G lowers his voice, "… You need to get him to prep something before he attends. Understood?" Doc nods his head in confirmation.
G returns to S, "Prepare a suit for me, now!" When he wears the uniform with the secretary's assistance, he continues to talk to Doc, "And be sure to remind him not to reveal his real name in case he comes by. I think that R is O.K. Are you clear, Doc?" Doc smiles, "Consider it done, sir! Today, people almost forget to speak their real name in any communication, which I see." G doesn't care for the word of Doc. He just orders, "Dismiss! Doc. But you can stay here anytime." S comes close to G to say something that Doc can't hear clearly. "We will talk about it later." G suddenly talks to S loudly while glowering at her.
Scene 4:
Doc with the secretary after the meeting.
After G has left with an excessive whistle, Doc sees S, asked her, "Are you okay?" She's just raising her hand to show she's all right and says. "Your presentation is pretty good. Unfortunately, the prince died many years ago, so now we have no evidence to demonstrate your words." Doc talks to her, "This is the best thing I could come up with when talking about him because G is a man of the achievement syndrome, you know." Coming close to G's desk, Doc takes his hand in the hip to relax. He lowers his head and says, "But our guy has been finally accepted, hasn't he? With his contribution, our people in the project will be way safer. I'm certain about that." S glanced at him, abruptly asks, "Are you sure about that?" Doc lifts his head to look at her, "Hey, I've told you.." She interrupts, "No, I mean... They say he has a great family. So is it worth putting him to this no-way-out problem?" Doc sighs, "Honestly, he's a man who can be compared with a large number of previous heroes on the planet. Especially since he doesn't need to use any Makos during the fight." S laughs off, "The Mako, that's already history, isn't it? Especially in those days, humanity was under the pandemic of the Third Wave. Oh, and I know more about it. The first was in a city known as New York City over a thousand years ago. The Second Wave arrives much later and destroyed the Cetra ethnicity…" Doc smiles, "Well, I don't know if you know our history, either." S takes a joystick out of the drawer. When she pushes the lever, a holographic illusion is shown. "The matter didn't stop there, Doc. I'm also learning something from history never written in the book."
The soundtrack now is like:
After closing her eyes for a while, S continues to say when the holographic delusion runs, "The Cetra were unique in being immunized against the initial pandemic. Nobody can explain why they could do this, but we all know they can use an energy called magic afterward. Unfortunately, it appears that their immunity dropped in the Second Wave. Instead of finding out the cure, they absolutely adored the Gods, blamed on a woman from another planet they called Jenova and created more weapons to fight against the Wave of Zombies. That's the stupidest plan I've known…" Doc interrupts her, "You intend to tell all the history for me right now, don't you? Although I see you're better than R only about this, it's likely you're showing your arrogance. And I don't see anything pleasant in history except that after many, many years people knew how to fly the building to stop the Zombie Wave, and the monsters." Doc stops a little bit to watch S turning off the holographic. Then, all of them break into laughter. S smiles, "Well, my thought is actually different from yours. Remembering history is the best way to survive after entering this machine, not merely a spy skill. That's why I hope R will always do his job as a security guard if he's in space. And so do I and his friends but you." The doctor is a little frightened, but S makes a gesture with her hand, "Just kidding. Relax. No one's going to make you get in the machine. I promise." Doc just looks at her eyes, then he smiles, "You know, I appreciate that your skill's still good." S understands what he means so she looks away and storms out of the room. At the door, she turns around, says, "Remember, Doc. It's just you and me and our general who knows why the machine was created. Maybe you and he think it must be the highest honor for a man... To go to the machine… but… change and keep timelines for the greater good, regardless of how other groups can be eliminated in our time. That word… makes me sick."
"Everyone dies eventually." Doc talks to her, but she has already left before he finishes his sentence.
Last edited: