≜
Staff member
Global Moderator
Social Media Team
Veteran
Hello, it's me again
I was floating around the FF Wiki page again looking up some crest information when I came across the page for the Valia Pira boss. In case you need a refresher, you fight Valia Pira during your time in the Desert Palace (AKA Kuja's Lair) where your character uses various bloodstones to deactivate it's various magical properties before engaging in it's boss battle.
I had a quick glance over of it and felt like this boss seemed a little familiar in some ways.
Now, FFIX is no doubt full of allusions to the previous games - just look over at the
Tantarian thread
for an example (and a shameless plug

) But I did a quick search and found no significant information in regards to it's overall appearance (aside from the triangle at the very bottom, which is
Kuja's Emblem
.) I couldn't really find any information on the
Allusions page
for this Boss, and I felt like it would have been too obvious for someone not to have noticed by now, so maaaaybe I'm reading too much into things...
But the top of this thing looks familiar right?
Valia Pira
​
So initially when looking at the crown I thought how the middle two prongs looked very similar to a set of horns I've seen on a helm for one of the previous FF Characters. So naturally I went searching for a few characters that I *thought* matched this... and, well, I forgot exactly how many characters had horns on various armor and whatnot.
I kept going in circles, but I kept coming across Firion (FFII) but mostly in his 2nd & 3rd Dissidia outfits.
And... FFIX came out before Dissidia.
But,
Firion's costumes are influenced from
Yoshitaka Amano's
art, which apparently he was also one of several designers for FFIX.
I also wanted to point out that the bottom portion of the purpley feathers looks sooomewhat like the face of Armano's other drawing for Emperor Mateus (also FFII) but that may also be a stretch of a stretch.
Another angle I was looking at was that the crown of the Valia Pira resembled that of Sorceress Edea (FFVIII) back piece resting on her shoulders, though this only works if you consider the middle two prongs as one conjoined piece, as there are 7 points to Edea's ornament vs the 8 on the Valia Pira.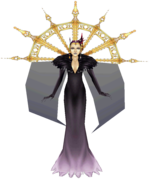 Looking at the center design with the purple feathers had me immediately thinking of Ultimecia as well, more specifically her final form in battle:
I feel like this theory fits more if she's actually flipped upside down? I realize they are not exactly the same, though I'd find it poetic if they just did an artistic rendition of her... mess of a final form. Considering Ultimecia's initial form (below) has a lot more feathers It's plausible to think that it could also be a representation of Ultimecia with all her forms in mind as well.
The only other thought I have is that it could also be a rendition of Necron, but as I said about Ultimecia, more of a artistic rendition. It would be an interesting foreshadowing if that were true!
So, I dunno. Maybe it's a reach and I'm just being silly

But Valia Pira certainly has an interesting design nonetheless. Let me know if you think it's all just a bunch of nonsense, or if you think you have a better idea of what this design could actually be alluding to

Edit: Added a small bit about Necron
​
Last edited: