Βρεκεκεκὲξ κοὰξ κοάξ
Staff member
Administrator
Social Media Team
Veteran
Joined

Jun 26, 2008
Messages

9,411
Location
Gil
FFXIV

Polyphemos Bromios
FFXIV Server

Moogle
Free Company

KupoCon
​
We usually glance at
FFIX
's Garland as a mild reference to
FFI
's villain (Garland the fallen knight), nod, and then think nothing else of it.
FFIX
is absolutely ram-packed with references to earlier FF games and so it might seem like we should stop there.
But did you know that Garland is also the name of one of the escaped Nexus-6 androids in
Do Androids Dream of Electric Sheep?
by Philip K. Dick? The character was not included in the cult-classic film
Blade Runner
which adapted some of the material from this novel, so it would be a more obscure reference than a character called Roy Baty/Batty, but I find it interesting all the same. Was this connection also intended?
Existentialist themes dominate
FFIX
(and on reflection this seems quite peculiar for a medieval-grounded fantasy rather than the sci-fi / futuristic based fantasy of some other FF games). What is life? What is being alive? How would 'people' react when learning of their built-in short lifespans? Are artificial beings even 'people'? It would be weird if
Do Androids...
and
Blade Runner
were not used as source material for these themes as so many other works of fiction have drawn from them.
We mostly think of Kuja and the Genomes, and Vivi and the Black Mages when we think of these themes within
FFIX
. All of these are created beings / androids or empty mechanical shells to be filled with souls at a later date.
But it is sometimes overlooked that Garland is himself an android created by the panicked and doomed Terrans with the task of restoring the dying planet Terra to life (through a merger of worlds, and through hijacking Gaia's soul cycle through the Iifa Tree so that Terran souls could be pumped into existence again and inhabit the Genome bodies which Garland had created). We never directly meet the Terrans (they exist as dormant incorporeal souls within Pandemonium, where they have been suspended for several thousand years). Garland is Terra's caretaker, and his calculated, unfeeling methods for achieving these aims had disastrous consequences for Gaia (the first attempted merger of the worlds took thousands of years for Gaia to recover, forced Terran landmarks onto Gaia, and trapped Terra underneath Gaia's crust). Garland appears to lack empathy, caring little about life except for in his task at creating vessels to contain the souls of Terra. Garland cares little about Kuja, treating his Angel of Death only as a pawn (and a failure at that), and designed a short lifespan for Kuja (the revelation of which sent Kuja into a destructive, nihilistic frenzy).
Both Garland from Philip K. Dick's novel and
FFIX
's Garland are androids from another world (the colony of Mars and Terra, respectively) which, when discovered to be androids, shake the worldview of the protagonist and makes them wonder whether they might be androids too. Zidane, it turns out, is an android of sorts (though possessing a soul), and has his own existential crisis.
Like the Nexus-6 androids, FFIX's Garland sometimes betrays a lack of empathy, but by being evil he is not completely unthinking or lacking human behaviours. Garland behaves in an individualistic way which would suggest a being of consciousness, and he appears to experience fear for his survival similar to the Nexus-6 up to a point… As the inevitability of his demise draws closer, like the Nexus-6 in the novel (not so much in
Blade Runner
) FFIX's Garland more or less resigns himself to his fate and allows Kuja to kick him off the cliff.
Also, if we look at Terran architecture and art (and on the Terran ship, The Invincible) we notice the characteristic Terran 'eye' on a down-pointing triangle. These illuminati-like aesthetics are very similar to the symbolism seen in
Blade Runner
with its own focus on eyes and pyramids.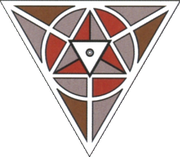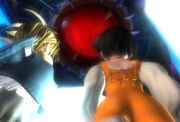 I find
FFIX
's Garland to be a great villain, but quite understated. Since
Dissidia
, I think that
FFIX
's Garland has been overshadowed by his
FFI
counterpart again, and largely forgotten outside of a play-through of
FFIX
itself. But after considering these themes (and in a large way influenced by the brewing – though cautious - hype for the
Blade Runner
sequel, I confess) I can appreciate more depth to this character and the concepts surrounding him than I previously had.
As an aside (and not directly related to Garland), I find it interesting how the Black Mages and Genomes appear to take an interest in caring for and raising the chocobo they name Bobby Corwen. In
Do Androids...
animals are dying out, and keeping a real animal (as opposed to an electric one) gives people a lot of happiness and increases their status in their communities. Similarly, caring for the chocobo gives the Black Mages a lot of happiness, and Vivi notes that they cannot be mere puppets if they can experience joy and affection like living, sentient beings would.
What do you think about the android themes in
FFIX
? How alive is Garland? How does he compare with Kuja, Zidane, Vivi, the Genomes, the Black Mages, Black Waltz's, etc?
Discuss!