Βρεκεκεκὲξ κοὰξ κοάξ
Staff member
Administrator
Social Media Team
Veteran
Joined

Jun 26, 2008
Messages

9,412
Location
Gil
FFXIV

Polyphemos Bromios
FFXIV Server

Moogle
Free Company

KupoCon
I've come up with a new voting thread!
​
FEEED MEE! Aaaa! Aaaa!
It is finally time for us to vote for our favourite FFF
Christmas
recipe for 2022!
Please do not vote for your own entries.
---
FFF's Recipes:

Recipe 1:
​
Name of dish:
Behemoth Chili w/Freshly Defeated Funguar
Photograph:



Side Effects:
HP +30
Strength +5
Fire Resistance +10%
Lightning Resistance +10%
---
Recipe 2:
​
Name of dish:
Paissa ribs with corn and Popoto
Photograph:



Recipe:
Thavnairian Corn buttered, steamed in a bag for 6 minutes,
1 popoto buttered with italian and garlic seasoning,
cooked for 75 minutes,
1 set of boneless paissa ribs cooked in bbs with italian seasoning, garlic salt, and paprika for 60 minutes
---
Recipe 3:
​
Name of dish:
Quina for Dinner
Photograph:
Recipe:
Make a shortcrust pastry for a mince pie case
Open up a jar of sweetmince for a filler
Lay on that icing sugar
Carefully place on some dried strawberry flakes (etc) to for the eyes and tongue
Place some chocolate sprinkles to form a mouth
Step back and pretend it looks a lot better than it does
Preemptively eat Quina before Quina eats you
---
Recipe 4:
​
Name of dish:
Kirman Holiday Cookie Cups

Photograph: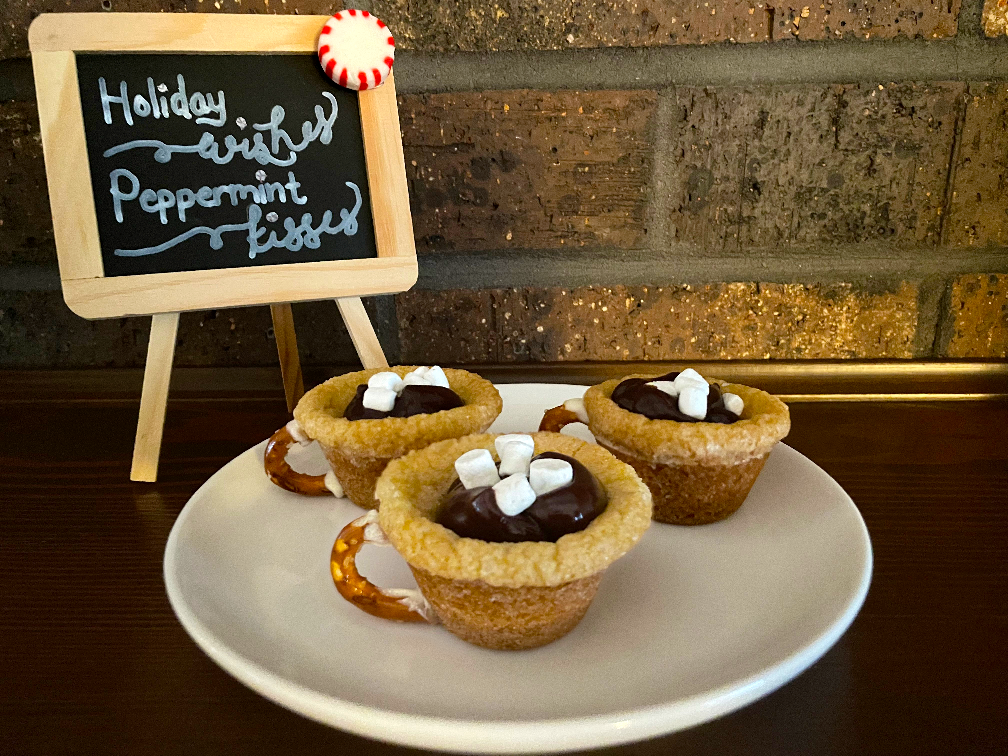 Ingredients:
1 Mini-muffin tin
1 package pre-made sugar cookie dough
1/2 cup heavy whipping cream
2 tablespoons Kirman hot cocoa mix
1 cup semi-sweet chocolate chips
1/2 cup white chocolate chips
12 mini pretzels
1 cup Mini mallows
Instructions:
Preheat oven per package instructions
Put 1 tablespoon ball of sugar cookie dough mix into each mini muffin tin slots.
Bake for 12-14 minutes and allow the cookies to cool completely in the pan before gently removing them.
Bring the whipping cream to a boil in a pot and stir in the Kirman hot cocoa mix.
Pour the hot cream over the semi-sweet chocolate chips and let it sit for 3 minutes.
Once melted, stir until the chocolate chips are combined and melted and the ganache is smooth.
Break off the loops on some mini pretzels to use as handles.
Melt the white chocolate and use it to attach the pretzel handles to the cookie cups.
Spoon the chocolate ganache into the cookie cups and top with mini marshmallows.

***​
I thank all of you who entered. It was a busy time of year for everyone so I really do appreciate all entries!
Happy voting!