Βρεκεκεκὲξ κοὰξ κοάξ
Staff member
Administrator
Social Media Team
Veteran
Joined

Jun 26, 2008
Messages

9,412
Location
Gil
FFXIV

Polyphemos Bromios
FFXIV Server

Moogle
Free Company

KupoCon
I've come up with a new voting thread!
​
People have come up with their new recipes (and Ignis has jotted them all down and stolen them). It is finally time for us to vote for our favourite FFF
Christmas
recipe for 2021!
Please do not vote for your own entries.
---
FFF's Recipes:

Recipe 1:
​
Name of dish:
Yule Meol
Photograph:
Recipe:
Traditional method = compress and reconstitute the matter of [REDACTED]

Safer option = buy or create some bread rolls

Bake in the oven
Place them on a plate
Use a fork and engorge yourself. Don't stop. Maybe even eat the fork.
If making them in the traditional way, sweep away residual feathers before consuming.
Prolonged exposure to this foodstuff will change your life permanently. It is recommended to eat only a small helping, if at all.
---
Recipe 2:
​
Name of dish:
Pepperoni Pizza
Photograph:
Ingredients:
Pepperoni
Marinaria
Dough ball
Mozzarella
Recipe:
Spread dough ball out on a circular cooking pan,
Spread the marinaria on the dough ball,
Put down a layer of Mozzarella then Pepperoni,
Repeat process of Mozzarella and Pepperoni to taste,
Cook 20 mins
Enjoy with hands (fork and knife not needed)
---
Recipe 3:
​
Name of dish:
Cooked Gyhsal Greens
Photograph:
Recipe:
Steam or boil some Gyshal Greens,
Add salt,
Voila!
---
Recipe 4:
​
Name of dish:
South Gate Christmas Bundt Cake
Photograph:
Recipe:
For the cake:
Cooking spray, for pan
1 1/2 cup butter, softened
2 cups granulated sugar
4 large eggs, or 1 medium Chocobo egg
1 tbsp vanilla extract
1/2 tsp almond extract (optional)
3 cup South Gate specialty flour
6 tbsp cornstarch
2 tsp South Gate specialty baking powder
1 1/2 tsp kosher salt
1 cup whole milk
South Gate secret ingredient
For the glaze:
2 1/2 cup powdered sugar
5 tbsp whole milk
1/2 tsp pure vanilla extract
1/8 tsp kosher salt
---
Recipe 5:
​
Name of dish:
Bomb Bowl
Photograph:
Recipe:
Give a lovely Clementine a few good blows
Invite some lychee to the party
Get ready for an explosion of flavors!
---
Recipe 6:
​
Name of dish:
DED MOUSE IN BOWL
Photograph:
(VRY FANCY)
INSTRUCSHUNS:
KILL TEH RED MOUSE TIL IZ DED


DROWN TEH RED MOUSE 2 MAK SURE IZ NOT FAKIN. MICE R VRY SNEAKY. IF ALIV, MURDR MOAR AGAIN.


PUT TEH WET RED MOUSE IN DA KIBBLE BOWL.


WAEK UP DAD AN MAK HIM GIT U TREATS. U WILL HAS 2 BE PURSISTENT.


DAD WILL BE VRY PROUD 2 C UR FRESH KILL AN TAEK PICTUREZ.
YELL VRY LOUDLY 4 APPROXIMATELY 10 MINUTEZ, DEN FALL ASLEEP ON TEH COUCH.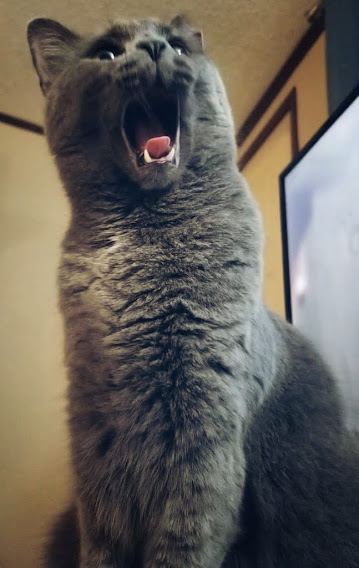 Host disclaimer: The above is not suitable for human consumption.
-
I thank all of you who entered. It was a busy time of year for everyone so I really do appreciate all entries!
Happy voting!