Joined

Jun 12, 2006
Messages

746
Gil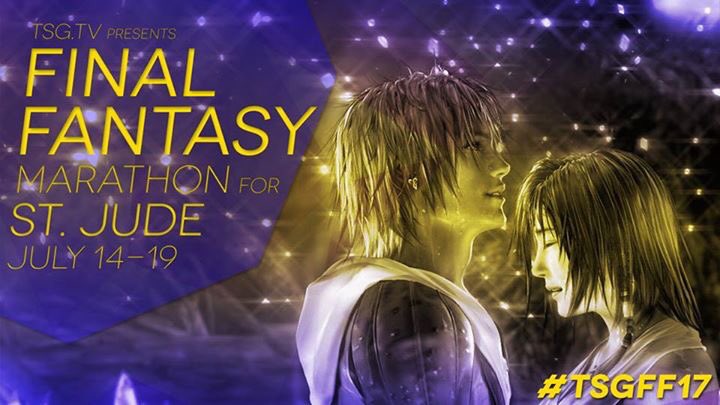 Final Fantasy Forums is affiliated with TSG as a sponsor. We strongly encourage your support!



​
Starting from

6pm today (14th July),

you can visit the Twitch page of TheSpeedGamers (TSG) as they seek to play through every major Final Fantasy game in the series (and there may even be surprises in between!) for five straight days. We here at Final Fantasy Forums are proud to help sponsor TSG and their marathon, with all support amassed over these five days to go towards the wonderful work of St. Jude's Children's Research Hospital.


St. Jude's Children's Research Hospital, for those unaware, is a Tennessee-based non-profit medical organisation and facility that is at the forefront of conducting research and paediatric care to tackle childhood cancer and various debilitating diseases that affect children from a young age. Your support for TSG during the 5-day marathon will go towards aiding and bolstering the incredible work done by the exceptional staff of the Hospital. It is a sad reality that there are many young children born with conditions that make their start at life such a painful ordeal, diffusing distress also to immediate family members and close friends. Let's lend our support to help provide these children with a fighting chance.


In addition, TSG have created a Final Fantasy-themed campaign that will concurrently play out over the course of the marathon. The campaign will be known as "Pixels vs Polygons." During the marathon, the attendees will be split into two teams, with the titular names of Team Pixels and Team Polygons. Each person will be represented by an avatar that displays their key stats: attack and defence. Every time a donation to St. Jude's Hospital is made, you can choose a marathon attendee that you would like to power up. For every $5 contributed, an attendee will see their stats increase. Twice a day, the two teams will have 4 players from each side pitted against each other in mortal combat, which will take into account the two sides' stats when calculating a victor. The winning team will score a point for their side. The team with the highest score at the end of the marathon will be crowned as the champion. There will also be prize packs to give away, so stay tuned!

​
If you're eager to lend your support and would like to find out more about TSG's marathon and cause, you can find further details about the event over here on their
website
. The event itself begins at
6pm CT today (the 14th)
over on their page, and you can also
join in early from 5pm CT
.
We here at
Final Fantasy Forums
would like to thank
TheSpeedGamers
for reaching out to us for the opportunity to promote their event. We wish them the best of luck with the marathon ahead, and with the sleepless attempts to wade through particularly those earlier Final Fantasy games that are not well-known for testing players' patience!​


​