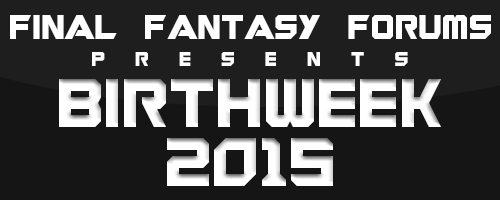 Birthweek 2015
Quina Quen drools over the cake as Golem's stony hands struggle to hold Quina back from gobbling it up. Jumbo Cactuar springs upward towards the sky and then shoots nine carefully aimed needles onto the surface of the cake. Immediately after this a group of bombs float up to the needles, exploding flames onto the ends of each of them. As everybody watches with glee and delight Typhon enters the scene and with a hearty exhalation he blows the candles out (and a good portion of icing flies through the air with it and slides into Fat Chocobo's carefully positioned beak). The tonberry which had been slowly edging towards the cake for the past hour finally reaches his destination.
Doink! Slice!
As the cake is portioned and shared moogles sing and dance merrily to the sound of flutes and harps, inviting us all to join in.
What's the big occasion?
On June 6th Final Fantasy Forums will be 9 years old! Time for all of us to celebrate with some fun competitions and activities. As always we shall call this momentous occasion 'Birthweek'.
As in previous years a variety of competitions shall ensure that there should be something for everybody who wants to be involved. Since a Survivor competition will not be hosted in 2015 on FFF we plan to put more effort into making Birthweek as active and exciting as possible.
What events can you expect?
If you enjoyed killing
Carlos el Cactuar
last year then a new monster, Mortimer the Malboro, shall be provided for you to tear into with your creative requests of punishment. If you have a camera ready and fancy snapping away then there shall be photography contest waiting for you. If your creative juices are flowing there shall be GFX events, a caricature competition, a fan cover competition, and a writing competition. If you want to test your Final Fantasy knowledge then there shall also be an FF quiz and trivia. If you are active on FFXIV there shall be events and rewards for you too! Of course there will also be a chance for you to nominate your desired winners for the member and FF awards. And more.
The guidelines for these competitions shall be posted from June 1st and all competitions should be completed by June 30th.
Click
here
for additional information.
Birthweek Points
This year there will be a new system in place for calculating the highest scorers on our leaderboards. 'Birthweek Points' (BWP) will be given out in addition to the usual rewards in Gil.
BWP shall be distributed for each competition in this way:
1st Place = 5 BWP
2nd Place = 3 BWP
3rd Place = 2 BWP
All participants (including winners) = 1 BWP.
Gil should be seen now as an extra reward for the benefit of the participant, but they do not affect the leaderboards. BWP shall be used for this instead. Since certain types of competitions have traditionally distributed more Gil than others, the reliance now on BWP instead should provide a fairer system and encourage participation in a wider range of activities.
The member with the highest number of accumulated BWP shall be declared the overall winner of Birthweek 2015.
The rewards are as follows:
Overall winner = 20 GP + 200,000 Gil (FFXIV in-game) + 3 months coloured username.
2nd place = 15 GP + 100,000 Gil (FFXIV in-game) + 1 month coloured username.
3rd place = 10 GP + 50,000 Gil (FFXIV in-game) + 1 week coloured username.
Honourable Mentions (overall participation but didn't win 1st, 2nd, or 3rd in most contests): 2 GP + 10,000 Gil (FFXIV in-game).
We'll be keeping a record of the winners for each competition and shall list them in the tables below, so check back regularly!
If all runs smoothly then the winner shall be announced on Monday, July 6th, 2015.
In the meantime keep alert for the appearance of the various competition threads, and enjoy yourself.
Happy Birthday, Final Fantasy Forums!
This article was originally published in forum thread: Welcome to Birthweek 2015! started by Dionysos View original post