Βρεκεκεκὲξ κοὰξ κοάξ
Staff member
Administrator
Social Media Team
Veteran
Joined

Jun 26, 2008
Messages

9,411
Location
Gil
FFXIV

Polyphemos Bromios
FFXIV Server

Moogle
Free Company

KupoCon
I've come up with a new voting thread!
​
People have come up with their new recipes (and Ignis has jotted them all down and stolen them). It is finally time for us to vote for our favourite FFF recipe for 2019!
Mostly mains this year, but we do have one dessert!
Please do not vote for your own entries.
---
FFF's Recipes:
Recipe 1:
​
Name of dish:
Othardian Salmon with Sylkis Greens and Sweet Carob Nuts, served with Quina's Fiesta Quinoa
Photograph: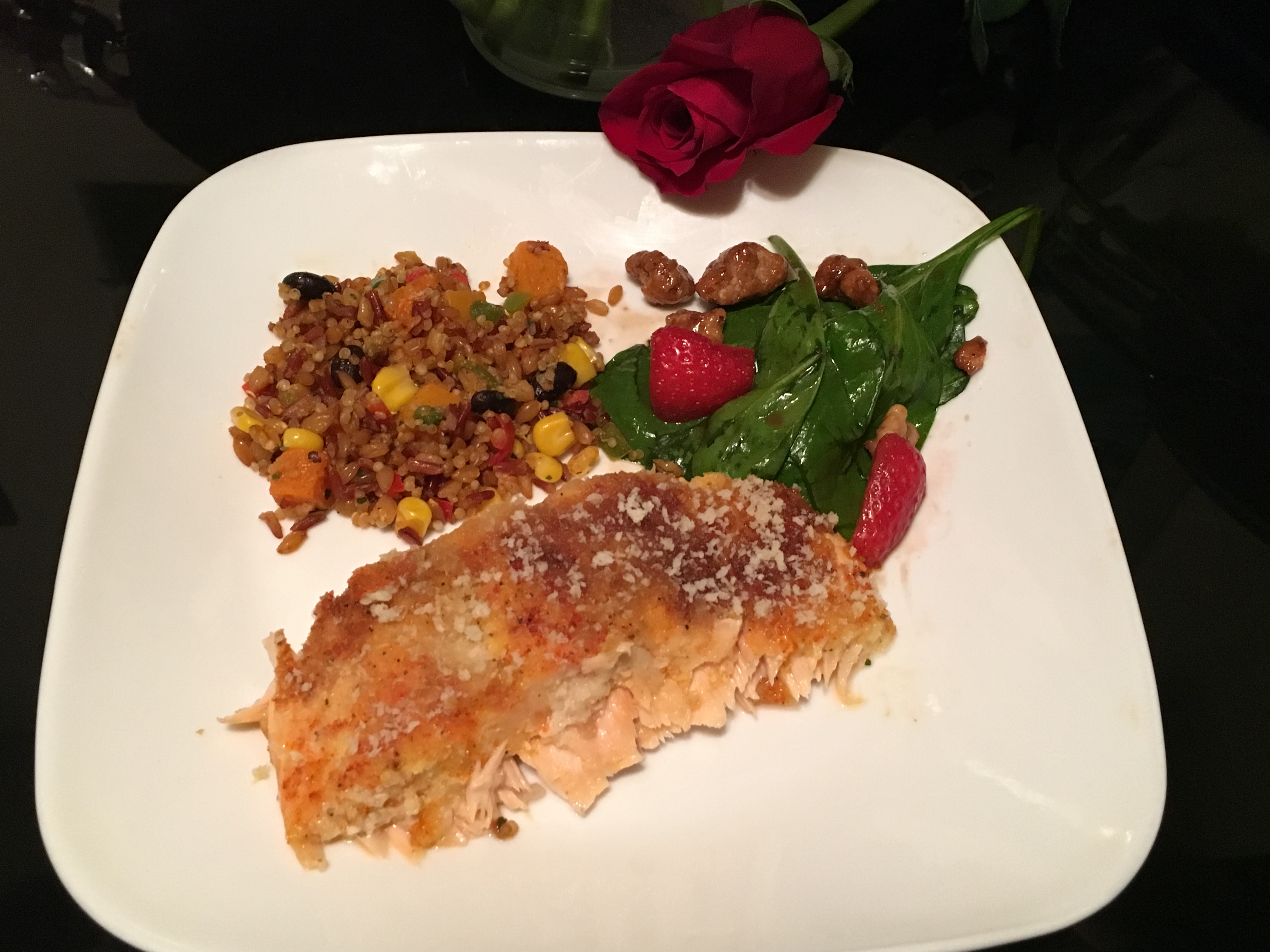 Ingredients:
-Salmon filet
-Two Clementines
-Garlic Powder
-Onion Powder
-Lemon Pepper
-Paprika
-Brown Sugar
-Soy Sauce
-Panko Bread Crumbs
Sides:
-Quina's Fiesta Quinoa (from Aldi)
-Spinach salad (balsamic vinegar dressing, strawberries, candied walnuts)
Recipe instructions:
Slice salmon all the way down to skin. Squeeze clementine juice over salmon. Sprinkle seasonings and a little bit of soy sauce. Sprinkle bread crumbs. Bake at 400 degrees for 17 mins.
Name of dish:
Soft-Boiled Egg (from
FFXI
)
Photograph:
Ingredients:
1 Egg
Effects:
HP+20
MP+20
Duration 60min
Name of dish:
Choco's Pot Pie
Photograph:




Recipe:
4 tablespoons unsalted Moogle Butter (Trust me, the Moogle brand makes the difference!)
1 lb. boneless skinless Chocobo breast
1 cup sliced Gysahl carrots
1/2 cup sliced Gysahl celery
1/2 cup chopped Mandragora (If not in season substitute with yellow onion)
1 1/4 teaspoons salt
1/2 teaspoon garlic powder
1/2 teaspoon dried thyme leaves
1/4 teaspoon ground black pepper
1/4 cup all-purpose flour
1/2 cup heavy Moogle cream
1 cup Chocobo broth
1/2 cup frozen peas
2 tablespoons minced fresh flat-leaf parsley
2 (1 top and 1 bottom) unbaked pie crusts.
Chef's Note:
Chocobo decoration optional, but tasty.
Name of dish:
Ramuh Noodles & Ifrit Chili
A filling lunch that is certain to put a fire in your belly.
Photograph:
Ingredients:
2 Bags of Ramen (any flavor, but I personally recommend Oriental or Chicken flavor)
1 Can of Chili
Spices: Sea Salt, Crushed Red Pepper, Chipotle Powder, Black Peppercorn
Directions:
1. Set a pot of water to boil, and cook ramen noodles until soft.
2. Strain water, mix in seasoning packets thoroughly.
3. Cook chili in a sauce pan on medium heat.
4. Mix in liberal amounts of sea salt and black peppercorn, a dash of crushed red pepper and just a pinch of Chipotle powder.
5. Stir to blend spices and to ensure even cooking.
6. Smother noodles in chili.
Best served with bread, milk and an antacid.
Name of dish:
The Midgar Munchies.
Photograph:
Ingredients:
One Shinra-approved pizza (bought from any trusted supermarket giant)
One Shinra-approved crusty baguette or garlic bread (bought from any trusted supermarket giant)
Recipe instructions:
Cook the pizza as you would any pizza.
Divide into eight sectors.
Cut the bread to form 8 mako reactors, leaving enough bread at the end of the roll to form the Shinra HQ in the middle of the pizza.
Once arranged, press your thumbs into the 'reactor' pieces to create the chimneys.
Remove Sector 7 and drop it (listening to opera during this process for maximum immersion).
Pretend you are Meteor and the Lifestream fighting it out as you eat the pizza for happy, yummy playtime.
Enjoy your own tasty Remake!
-
Name of dish
: Moogle Pom Pom Truffles
Photograph:
Recipe:
1 Package of Choco-late candy melts (Red*)
1 Package of Golden Kupo Biscuits (Substitute with Golden Oreos if not available in your area)
1 block of cream cheese
Red* sprinkles
Chef's Note:
*Substitute colors as needed for desired Pom Pom color.
Serves:
24 Moogles
-
I thank all of you who entered.
Happy voting!