Βρεκεκεκὲξ κοὰξ κοάξ
Staff member
Administrator
Social Media Team
Veteran
Joined

Jun 26, 2008
Messages

9,202
Location
Gil
FFXIV

Polyphemos Bromios
FFXIV Server

Moogle
Free Company

KupoCon
I've come up with a new voting thread!
​
People have come up with their new recipes (and Ignis has jotted them all down and stolen them). It is finally time for us to vote for our favourite FFF
Christmas
recipe for 2020!
Please do not vote for your own entries.
---

FFF's Recipes:

Recipe 1:​
Name of dish:
Sunflower Seeds
Photograph:
[
Inventory
] All Races
Ingredients:
Sunflower seeds.
Chef's Note:
These edible seeds are harvested from giant sunflowers.
Stacks to: 12
This item is Food that lasts 5 min.
Obtained through Gardening
Food Effects:
(Vendor availability may require control of the Aragoneu region.)
Sold by Merchants for about 90-110 gil:
Instructions:
Open bag and eat.
---
Recipe 2:​
Name of dish:
Chocobo Soup
Photograph:
Recipe:
- 4 Litres of Mt. Nibel spring water.
- 2 Chocobo Legs on the bone and one Chocobo filet, cook for about 30 minutes, take out, pull apart with 2 of Quina's forks.
- Add two Chocobo flavoured herb packets or bouillon cubes to the stock.
- Add Gyshal Greens, Carob Carrots and Oglop Noodles to your dish.
- Add back the chocobo flesh (without bones!!) and cook for an additional 10 minutes or until the Oglop Noodles are ready.
Wark!
---
Recipe 3:​
Name of dish:
Gizamaluke's Gratin - Traditionally served at Christmas dinner
Photograph:
Recipe:
- 4 Gysahl potatoes, sliced into 1/4 inch slices
- 1 Gysahl Green, sliced into rings, salt and pepper to taste
- 3 tablespoons butter
- 3 tablespoons all-purpose flour
- ½ teaspoon salt
- 2 cups milk
- 1 ½ cups shredded Moogle cheese
---
Recipe 4:​
Name of dish:
Chocobo Chicken and Pasta
Photograph:
Recipe and Instructions:
Grilled chocobo cooked for 60 mins, seasoned with some roasted garlic marinade and teriyaki sauce.
Light paprika and garlic salt.
Rolls cooked for 12 mins.
The chocobo flavored noodles cooked for 7 minutes.
In pan bring 2 cups water and 2 tbs of butter to a boil, add the noodles and chocobo seasoning reduce temperature and cook for the 7 mins, let stand for 2.
Enjoy.
---
Recipe 5:​
Name of dish:
Chocoblock!
Photograph:
Ingredients:
Two Mars Bars
Two ounces of butter
Three ounces of Rice Krispies
1 white icing tube
2 icing pens (red and blue)
Instructions:
Melt Mars Bars and butter in pan
Remove from heat and add Rice Krispies whilst stirring
Place into a rectangular tin
When it has cooled, cover with melted chocolate and layer it neatly
Cut it into squares in honour of Square Enix*
On one square, or all of them:
Squirt your icing all over it and smudge it into the shape of a snow-white chocobo!
Use a blue icing pen to create its eyes
Use an orange icing pen to create a beak
Kwehstion why you have done all of the above and then enjoy your crunchy, chewy, choco-chocobo-ey snack!
* (If you accidentally leave it a day without covering it properly and it starts to oxidise, fear not! This happy accident can form a snowy background!)
---
Recipe 6:​
Name of dish:
Chocobo's Christmas Jellies
Photograph: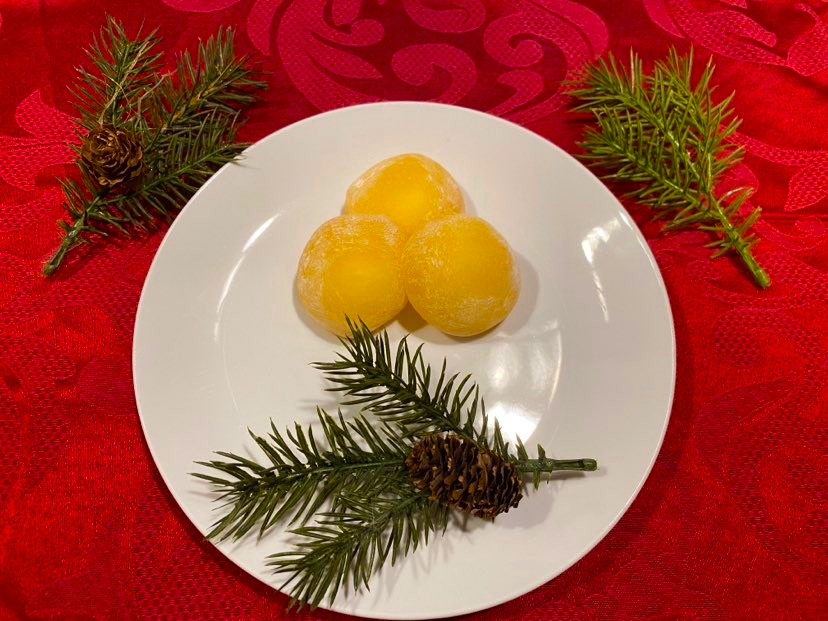 Recipe:
1 cup sweetened Chocobo bean paste
1 cup sweet Gysahl flour
1 teaspoon orange jam
1 cup Potion or water
¼ cup white sugar
½ cup Gysahlstarch, for rolling out the dough
-
I thank all of you who entered. It was a busy time of year for everyone so I really do appreciate all entries!
Happy voting!