Βρεκεκεκὲξ κοὰξ κοάξ
Staff member
Administrator
Social Media Team
Veteran
Joined

Jun 26, 2008
Messages

9,241
Location
Gil
FFXIV

Polyphemos Bromios
FFXIV Server

Moogle
Free Company

KupoCon
I've come up with a new voting thread!
​
People have come up with their new recipes (and Ignis has jotted them all down and stolen them). It is finally time for us to vote for our favourite FFF
Christmas
recipe for 2019
(and early 2020)
!
Please do not vote for your own entries.
---
FFF's Recipes:
Recipe 1:
​
Name of dish:
Ignis' Day after Christmas Hangover Breakfast
Photograph:
Recipe:
Did you drink too much at Christmas dinner to keep from throttling your relatives? No worries. Ignis has you covered. This light combo of toasted bread and butter is sure to soak up that alcohol in no time.
Ingredients:
1 slice of bread
1 tbsp butter
Instructions:
Melt the butter in a skillet over medium heat. Add bread and toast to desired crispness on each side. Eat!
---

Recipe 2:​
Name of dish:
Buffalo garlic chicken dip
Photograph:



Ingredients:
1/2 4oz cream cheese
3/4 cup shreeded cheddar cheese
3 small cut up chicken tenderloins
1/2 cup roasted garlic peppercorn
1 tablespoon lemon extract
1/2 cup buffalo hot sauce mild
1/4 cup garlic tangy honey sauce
---

Recipe 3:​
Name of dish:
The Perfect Cup (for Christmas)
Photograph:
Recipe:
It's not about finding the single best ingredient. It's about crafting that perfect blend of meat, egg, and shrimp. That harmony of flavors is key.
Ingredients:
1 Christmas Themed Cup Noodles
Behemoth Round
Glimmering Zu Egg
Karlabos Carapace
Instructions:
Prepare Cup Noodles as instructed on packaging
Prepare desired meat(s) for the cup (Or all three for the ultimate flavor experience!)
Combine meat(s) with Cup Noodles.
Serve with a cold bottle of Wiz's Energizing Elixir
---

Recipe 4:​
Name of dish:
Cup of Rancid Coffee (
FFXI
)
Photograph:
Recipe:
A foul-smelling coffee brewed to resemble a morbol's drool. It is unusually sticky, much like a sweet nectar.
Ingredients:
Statistics:
Stackable: 12
Food Effects: (3 minutes, All Races)
---

Recipe 5:​
Name of dish:
Artemicion's Upside Down Christmas Tree Cheesecake with Kupo Nut Topping
Photograph:
Recipe:
Nothing says Christmas dessert like creamy green cheesecake for one (or share if you're feeling generous).
Ingredients:
Sour Cream
Cream Cheese
Butter
Almond Flour
Cinnamon
Powdered Sugar
Vanilla Extract
Green Food Coloring
Kupo Nuts!
Instructions:
Whip the sour cream and set aside. Whip together the cream cheese and butter. Add the vanilla extract, sugar and green food coloring. Fold in the sour cream.
In a saucepan, toast the almond flour and finely chopped kupo nuts over medium heat for 2-4 minutes. Add melted butter, powdered sugar and cinnamon and stir until combined. Press the mixture into the bottom of a serving glass, reserving some to sprinkle over the top of the cheese cake.
Pipe the cheesecake into the serving glass on top of the crust. Sprinkle with mixture and more kupo nuts if you'd like. Chill for several hours in the fridge before enjoying.
---

Recipe 6:​
Name of dish:
Death by Mog
Photograph: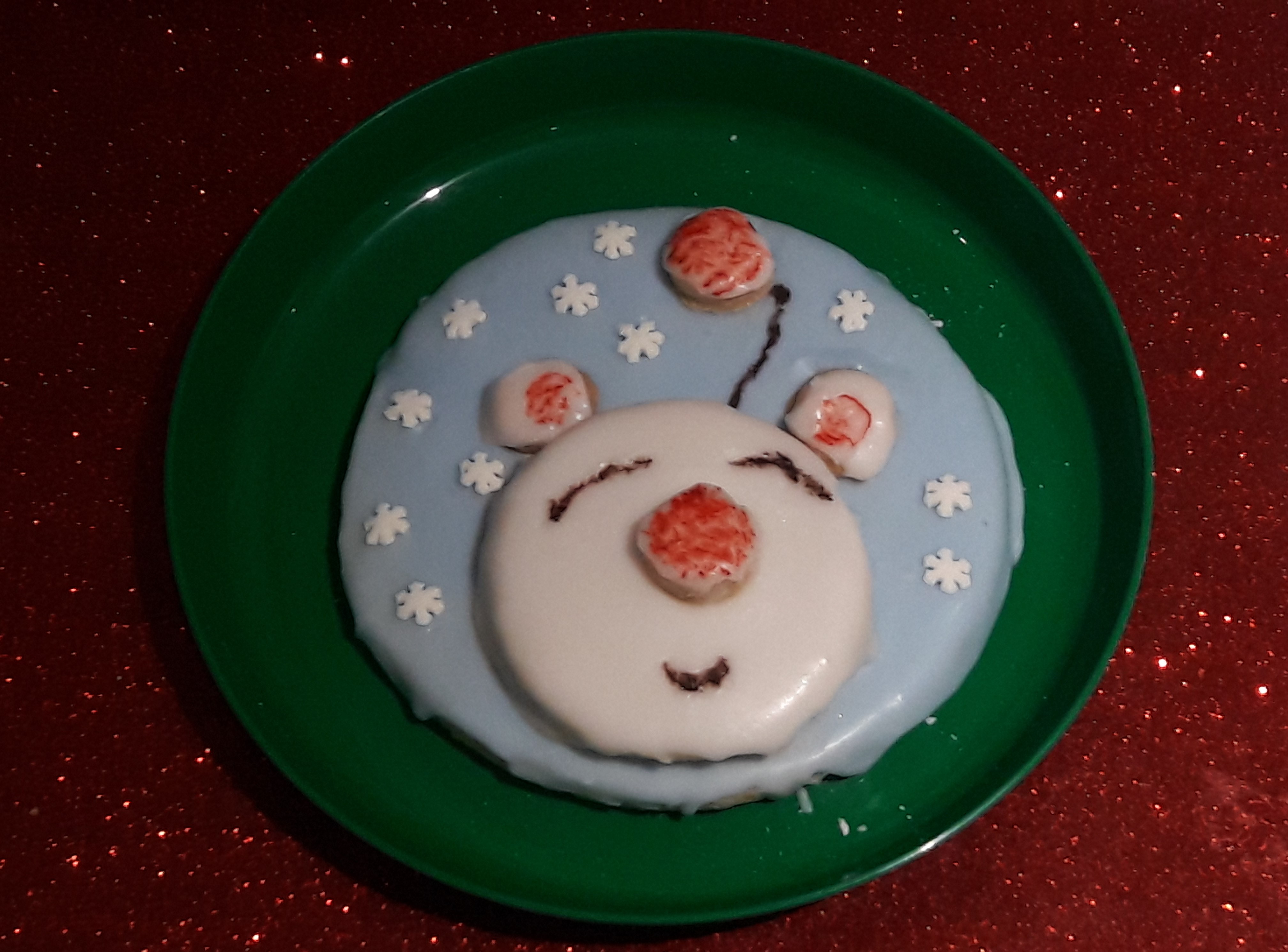 Recipe:
Being naturally jolly critters who sing and laugh and play, nobody keeps Christmas better than moogles! Why not absorb some of their spirit by eating one? You'll become a Scrooge if you don't!
Ingredients:
200g unsalted butter
100g sugar
300g plain flour
Icing sugar
Water
Food colouring
Icing colouring pens
Snowflake sprinkles
Your happy face
Instructions:
Put on a festive apron and hat
Heat the oven and prepare it as you would when making shortbread
Mix together the butter and sugar, roll the dough and cut it into shapes as you would when making shortbread
You need to cut shapes for one large shortbread (the base), one medium (the head) and four small (the pom pom, ears and nose)
Bake for approximately 15 minutes as you would when making shortbread
Remove to a safe location and let them cool
Mix the icing sugar with water and blue food colouring and plaster the base shortbread to create a blue background
Position the face, ears and pom pom on top of the blue background
Mix more icing (keeping it white) and plaster the face, ears and pom pom
Position the nose on top of the face in a roughly central position
Apply white icing to the nose
Using icing colouring pens apply finer details (black for the eyes, mouth and pom pom string; red for the pom pom and nose)
Add snowflake sprinkles to create a wintery backdrop for your happy moogle
Do a happy moogle dance
Eat it, but then realise that you have created a multi-layered shortbread mountain
Hate yourself for the rest of the day for being an idiot
-
I thank all of you who entered. It was a busy time of year for everyone so I really do appreciate all entries!
Happy voting!