Βρεκεκεκὲξ κοὰξ κοάξ
Staff member
Administrator
Veteran
Joined

Jun 26, 2008
Messages

6,742
Location
Gil
Gold Points
Community Tokens
FFXIV

Polyphemos Bromios
FFXIV Server

Lamia
It seems like only the other week that the Ceglings were out trick or treating and then ended up in a Ghostbusters knock-off after a terrible moogle imitation of Derek Acorah handed them some ghost-sucking gear.
Remember that?
Well, the Ceglings already cleaned up that mess.
This year the problem is worse. Some of their problems might be
within
themselves. Or maybe the
spirits
are
within
the planet. That's right! Mysterious 'Phantoms' have landed and the Ceglings must suss out where they are located.
*
*​
Rules:
Guess where the ghosts are hiding in the facility and control cegling creatures to trap them.
Each player can move
once
with
one cegling per turn
.
You
do not need to control the same cegling
for each turn.
The rules are the same as last year, but there are some new additions (see
Phantom attacks!
section).
Watch out for General Hein and the Phantoms!
There are a couple of moves at your disposal. Click the spoiler tags for some short details.
Locate/trap:
Simply type something like:
[Cegling name] thinks there might be a ghost in [object name / location] and uses their trap.

If you guess the exact location of a ghost then you shall trap it without any rolls of dice. If you are close but not quite there, I shall roll a die to determine your success.

While there are no limits to the number of ghosts each cegling can trap, each time a cegling traps a ghost their trap needs to recharge for one whole turn. Simply use another cegling for this turn, or skip.
If this advice is disregarded then the trap could overload and the captured ghost might escape!
Spook steal:
Steal a ghost from another cegling.
Simply type something like:
[Cegling name] steals [name of ghost] from [name of Cegling].

This shall sneakily cipher ghosts from rival traps and add them to your own!
Every ghost is a unique character and you might decide that your favourite cegling would rather own a particular ghost than that other cegling across the hall.
Unfortunate events:
At the end of every turn a die shall be rolled and if it lands on a six then a ghost will be released from a trap at random.

Possession:
If a cegling fails to trap a ghost during a roll (if not in the exact location) and the die rolls 6 then the cegling will become possessed by this ghost. For the next turn the cegling will work for the ghosts and shall free the nearest trapped ghost to the possessed cegling.
Escaping ghosts will change their location in the house.
Phantom attacks!
The ceglings in this game are also being hunted by invisible Phantoms. Current research tells us that these entities are actually ghosts, but that would be a preposterous idea!
If you suspect a Phantom is in a location instead of a regular spirit then you can try using your custom-made
mini-Zeus cannon to blast the area
!
If a cegling inspects a location to trap a ghost but is attacked by a phantom instead, a die shall be rolled to determine whether the Phantom shall whip the cegling's spirit out of its body!
That means death! If a Phantom grabs a Cegling, their soul shall be whisked away forever!
To make things worse, the ghost of
General Hein
is also present! He will possess a Cegling at random, using the Zeus cannon to suicidal ends against themselves or fellow Ceglings.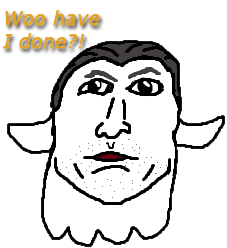 ​
Participation?
You
do not need to be a parent
of a cegling in order to participate in this game. All human participants will receive rewards, but clearly the parents shall benefit the most from this game as all parents (whether participating or not) shall accrue rewards for the brave endeavors of their children. The parents of the cegling/s who win shall receive better prizes.
The prizes will be determined at a later date.
The Ceglings:
If you are unsure which ceglings you would like to control, see
this post
for their bios and parents.
Here is the line-up for this event:
Brahnetosaurus
Ghosts trapped:
Chocobuncle
Ghosts trapped:
Chickenosaurus Six
Ghosts trapped:
Cabroot
Ghosts trapped:
Urianger Ghost
Rossmanian Devil
Ghosts trapped:
Snowmitts
Ghosts trapped:
Dantelope
Ghosts trapped:
Moombat
Ghosts trapped:
Arnut 'Chipper' Keelpom Ghost
Angrybeard
Ghosts trapped:
Phantoms destroyed:
Abomination Phantom

Linnerva
Ghosts trapped:
DEAD
Dinny Sore
Ghosts trapped:
Panter Paws
Ghosts trapped:
Lameow the Hot Cat
Ghosts trapped:
Wakka Ghost
Shakespeare Ghost
Shelby Goldenrod
Ghosts trapped:
Purrsephone
Ghosts trapped:
Siren Ghost
Gizmodeer
Ghosts trapped:
Flappy Feet
Ghosts trapped:
The Head
Ghosts trapped:
Rick Astley Ghost
Beelzebulble
Ghosts trapped:
Father Funguy
Ghosts trapped:
Lion Ghost
The Ghosts:
Current state of the building:
Last edited: