Βρεκεκεκὲξ κοὰξ κοάξ
Staff member
Administrator
Social Media Team
Veteran
Joined

Jun 26, 2008
Messages

9,412
Location
Gil
FFXIV

Polyphemos Bromios
FFXIV Server

Moogle
Free Company

KupoCon
In my recent playthrough of the
FFXIV
expansion
Shadowbringers
I noticed a number of fairly prominent and interesting Shakespeare references. Since today (April 23rd) is Shakespeare's birthday, now is as good a day as any to post some of my observations and thoughts about them on here.
Some spoilers below for those who'd rather avert their eyes.
Titania and the Fae
A Midsummer Night's Dream
is one of Shakespeare's most celebrated plays. As a comedy, it possesses some of the most hilarious situational gags on stage, but with its fantastical setting (an idealised imagining of Athens and its surrounding forests populated by fairies) it truly stands out as unique. Shakespeare's fairies are seen toying with mortals, inducing slumber, manipulating their emotions via magic, even transfiguring them.
FFXIV
's region of Il Mheg possesses fairies of a similar ilk. The mischievous Fae of Il Mheg are immortal entities which have moved into the region left vacant following the collapse of the mortal kingdom of Voeburt due to the Flood of light. Like Shakespeare's fairies of the forest, most of these Fae have moved into their present abodes in relatively recent times. These fairies or Fae are split into four subspecies: Pixies, Amaro, No Mou, and Fuath. Of these, the Pixies are the closest to how we'd imagine the fairies of Shakespeare. The
FFXIV
Pixies are childlike tricksters who play pranks on all who dare trespass into their territory. They aren't necessarily evil; they simply play and don't consider killing mortals in their games to be bad sport. In their minds, turning a poor mortal into a leafman (a bush - essentially turning a person into a tragic piece of topiary) is transformative rather than destructive. This is metamorphosis rather than murder. The desire to kidnap mortals and have them live out their days with them is also present. Shakespeare's fairies take the babies of mortals (swapping them with changelings), and the Fae of
FFXIV
want trespassers to get lost and play with them (or become part of their scenery as leafmen). Both Shakespeare's fairies and
FFXIV
's Fae struggle to comprehend the transience of mortal lives, deeming them short and inconsequential.
A surprised mortal transformed into a leafman
Rosebears are bears which the Fae have turned
into hideous rose monsters for fun.
​
As the title of
A Midsummer Night's Dream
implies, the relationship between the playful dalliances of the fairies and dreams is strong. In
FFXIV
too, when the player first enters Il Mheg, the Pixies play tricks and have them see only a dreamlike version of their home, shrouding the true appearance of their realm in mist. It is revealed in one questline that the Fae are the keepers of the Garden of Dreams and are responsible for crafting the dreams of mortals.
The similarities with Shakespeare's fairies goes beyond behaviour. The leader of all of the Fae is named Titania after the character in
A Midsummer Night's Dream
. While Shakespeare's Titania is described as the Queen of the Fairies (reigning alongside her husband, King Oberon), in
FFXIV
Titania is described as a king. All of the pixies (and all of the Fae in general) are described with the gender neutral pronouns they/them. There exists no Oberon in this rendition; Titania rules supreme and solo.
The Titania ruling the Fae of Il Mheg is past their prime. Formerly they led the Fae in their battle against the Sin Eaters (beings of pure light overrunning the land) and had slain the region's Lightwarden with their own hands. However, upon accomplishing this, Titania themself became the region's new Lightwarden. Panicked, the Fae locked Titania in their own castle and continued their own business with their head-of-state effectively imprisoned. With this we could compare the rivalry between Oberon and Titania in
A Midsummer Night's Dream
. In Shakespeare's play the fairy couple are estranged following a disagreement over the possession of an Indian changeling. Their quarrel is the primary driving force of the plot since it is this which leads Oberon to play tricks on Titania, and eventually the hapless mortals eloping in their forest.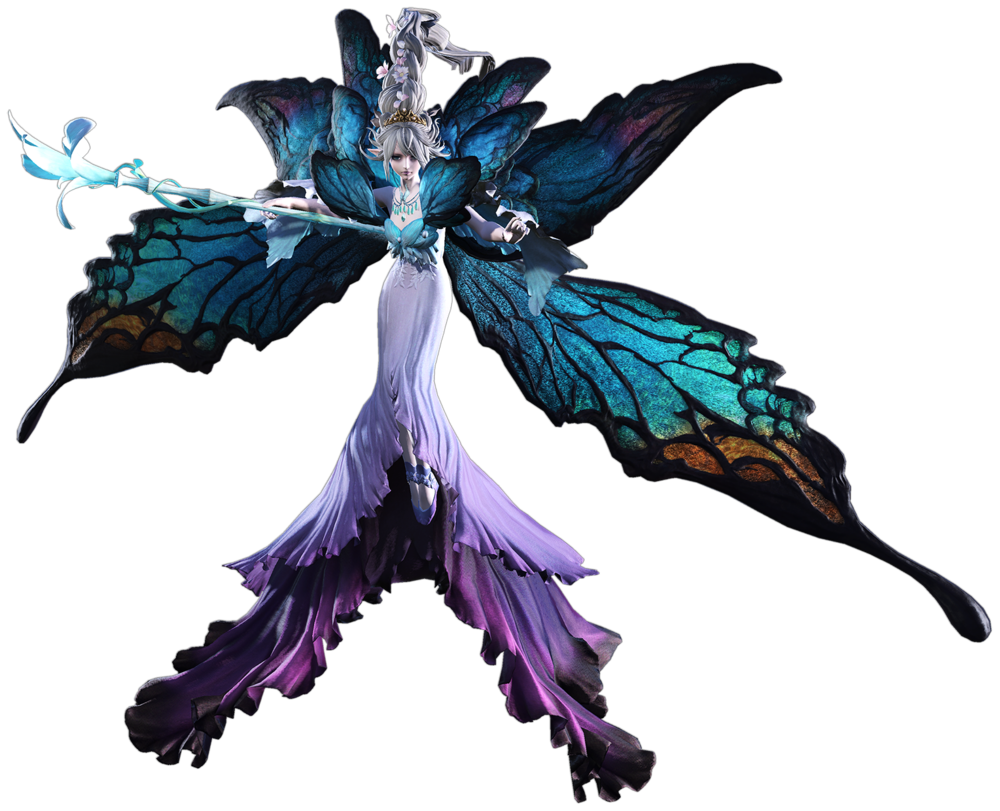 ​
FFXIV
's Titania is depicted as bored, longing for an audience and people to 'play' with. They taunt the player from their castle. When the player earns enough credit with the Fae to be allowed near their king after completing quests for them, they can then enter the castle to fight Titania.
Here, the Shakespeare references are dialled up a notch. While the battle commences in a fairy castle (not a Shakespearean setting), in the second phase of the battle as one of many tricks Titania transports the player party to a forest. This is the very setting of the abode of the fairies in the play.
The song which plays during the battle is titled 'What Angel Wakes Me'. This is a clear reference to the infamous scene from
A Midsummer Night's Dream
when Titania is awoken by Bottom (metamorphosed so that his head is now that of a donkey) and the fairy queen promptly falls in love with the incredulous man thanks to Oberon's trickery via his servant Puck. In the play, upon awakening from her sleep and spying the unlikely object of her desire, Titania says "What angel wakes me from my flowery bed?" (Act III, scene I, line 60). That 'flow'ry bed' also appears as a lyric in the
FFXIV
song is no coincidence. This music is in itself very Shakespearean in its language and tone, with refrains of 'Fa la la la la' and 'Ring a ling a ling' granting an air of Shakespearean authenticity to the track akin to the songs found in
As You Like It
(Act V, scene iii, lines 15ff). Other lyrics in this song are phrases which Shakespeare is believed to have coined (such as 'to our hearts' content'). This melody is thus a very fitting accompaniment to a battle with a character inspired by Shakespeare.
Dancing on the wind up and down again
Round and round the bend
Fa la la la la la
From a flow'ry bed to the clouds ascend
Tumble down again
Fa la la la la la
Yet with each descent do we rise again
To our hearts' content
Fa la la la la la
Fly away my friend for a day and then
We'll begin again
Fa la la la la la

Till down turn the skies
Wonted quiet, wanton silence
For long do we lie
Wond'ring when we'll be

Dancing on the wind up and down again
Round and round the bend
Fa la la la la la
From a flow'ry bed to the clouds ascend
Tumble down again
Fa la la la la la

Yet with each descent do we rise again
To our hearts' content
Fa la la la la la
Fly away my friend for a day and then
We'll begin again
Fa la la la la la

Still down turn the skies
Gentle song gently wand'ring
Along in the night
Joyous cries ring free

La la la la la
Lying lost in thought
Do you love me not?
Follow these
Petals cast aloft
La la la la la
Will you, when I'm gone, remember me?

Ring a ling a ling
Lovers in the spring
How the garden sings
Ever green
Spirits lush, we bring
Ring a ling a ling
Braving anything
Together, we

La la la la la
Learn to play our part
Navigate the dark
Up we reach
Catch a falling star
La la la la la
Lock it in our hearts eternally

Ring a ling a ling
Flying without wings
Kites without a string
Loop and leap
To these crowns we cling
Ring a ling a ling
For we'll all be kings tomorrow

Autumn's whisper soaring high
Lulla lulla lullaby
Baby's breath and butterflies
Sing in our sweet lullaby
Summer child with heavy eyes
Lulla lulla lullaby
Come our lonely angel nigh
Sing in our sweet lullaby

Time wilts and fades
Luster lost in the rain
Bows to the blade
Till the spring calls again
Titania is not alone. They are joined in battle by three named monsters whose names are also taken from the fairies of Shakespeare: Puck, Peaseblossom and Mustardseed. Puck is by far the most well-known and culturally significant, and this is not the first time that Square Enix have endeavoured to include Puck in a Final Fantasy game (
FFIX
's Burmecian prince being the prime example: see
Timber Maniacs Issue 1 pages 21-24
). Shakespeare's Puck (also known as Robin Goodfellow) is a spirit working for Oberon, and it is his direct meddling which sees Titania succumb to her unfortunate amorous affection for Bottom, and also the awkward mix-up of the four mortal lovers who had fled into the forest. The character Puck can trace his roots to the concept of nature spirits in Celtic mythology named puca/pooka/phooka (amongst other spellings). The Celtic creatures are often imagined as hairy or as shapeshifters. Incidentally, the furry creatures which have found their habitat immediately outside Titania's palace in
FFXIV
are a subspecies of paissa named Phooka. It would seem that Puck is evoked here too.
​
One of Titania's abilities is called Midsummer Night's Dream, in case anybody missed the reference of their namesake and associated companions. Once Titania is defeated and the night sky restored, the player's friendly Fae companion Feo Ul becomes the new Titania (revealing it is a title rather than a personal name).
The Tempest: Homesick Duke
The second prominent allusion to Shakespeare is the region known as 'The Tempest', deep under the sea off the coast of Kholusia. Here, the giant whale Bismarck's magic has enabled the heroes to walk underwater as the water has been displaced by a giant protective dome (thanks to the intervention of the fairy Feo Ul who convinced Bismarck to help).
The Tempest
is another of Shakespeare's most famous plays concerning the magician Prospero (who is the exiled former Duke of Milan) living on an island and conjuring up a storm in an elaborate plot to shipwreck those responsible for usurping him, toy with them and reclaim his home and title.
In the
FFXIV
location, shipwrecks line the bottom of the ocean and there is magic aplenty, but there exists an interesting parallel between the Ascian Emet-Selch and Prospero. In
FFXIV
, The Tempest is the final refuge of Emet-Selch (who, as a light-fearing entity, prefers the dark depths of the bottom of the ocean). Here remain some of the ruins of his former home, Amaurot, and Emet has conjured up an impressive glamour to recreate the entire city in its former splendour. Here he lives, pining for his home and wishing it to be restored at all costs. Much like the magician Prospero, bitter revenge and a desire for home are priorities in Emet's mind. Both Prospero and Emet are refugees of a sort (Prospero being the exiled Duke of Milan, and Emet being a former member of Amaurot's Convocation who found himself lost without his home after the world fractured into fourteen reflections). Additionally, Emet keeps the Crystal Exarch captive, hoping to monopolise on his unorthodox magical powers much like Prospero's keeping of the spirit Ariel.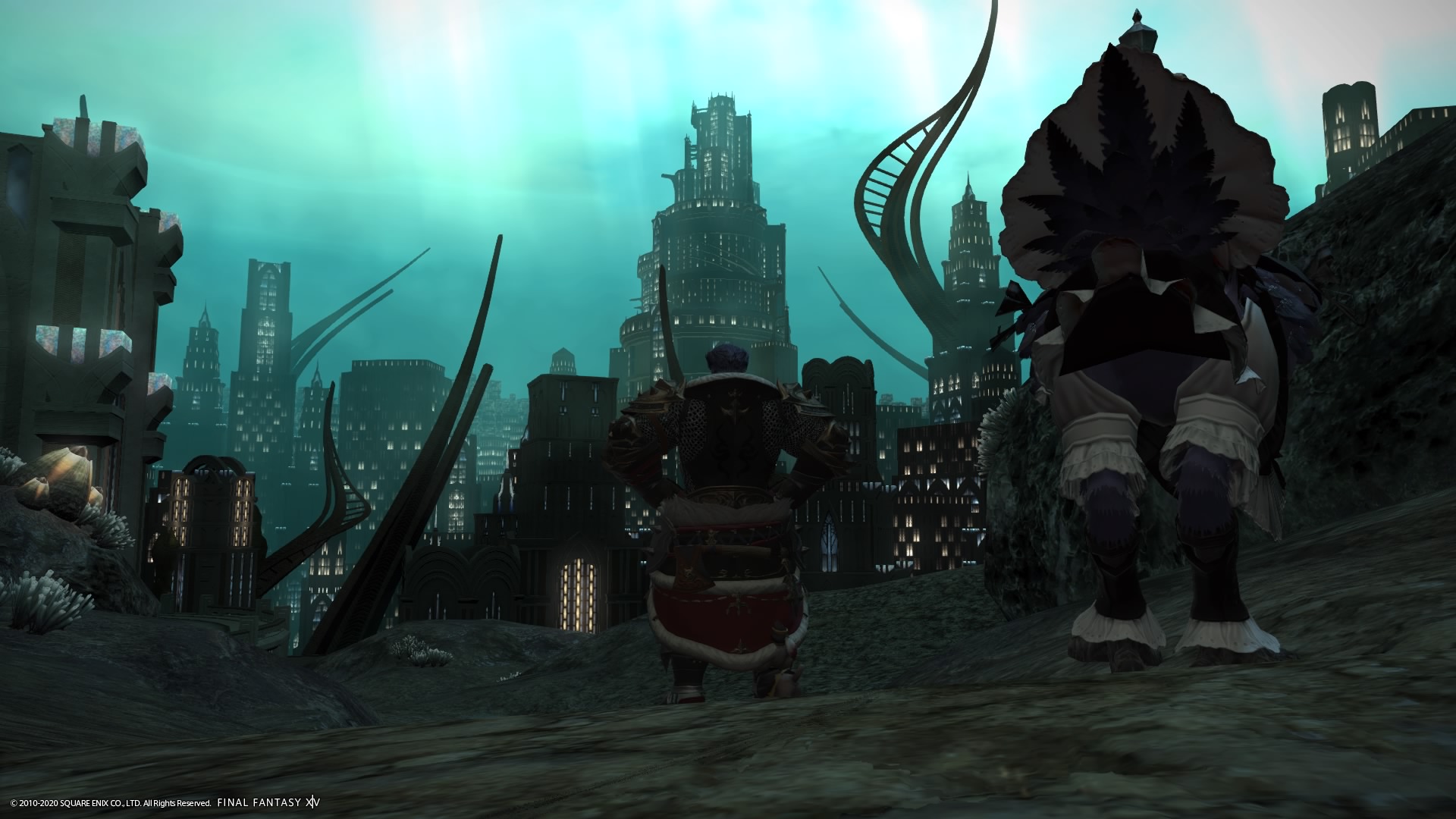 ​
One location within
FFXIV
's The Tempest is an underwater gorge known as The Caliban Gorge (containing The Caliban Gap). This a deliberate reference to the character in Shakespeare's
The Tempest
. Caliban is a native of the island Prospero has claimed for his own during his exile, and the magician has enslaved him. Caliban's appearance depends on individual productions as, while technically human, he is described as monstrous – some people even imagine him as part-fish. One wonders if
FFXIV
's fishlike Ondo (the First's equivalent of the Sahagin) might be like Caliban, since before Emet set up his base here and started creating his illusory recreation of Amaurot, the Ondo were alone in these waters. A bivalve which can be fished in The Tempest region is named Sycorax after Caliban's mother in Shakespeare's play, so
The Tempest
of Shakespeare has clearly been in Square Enix's mind whilst planning this location.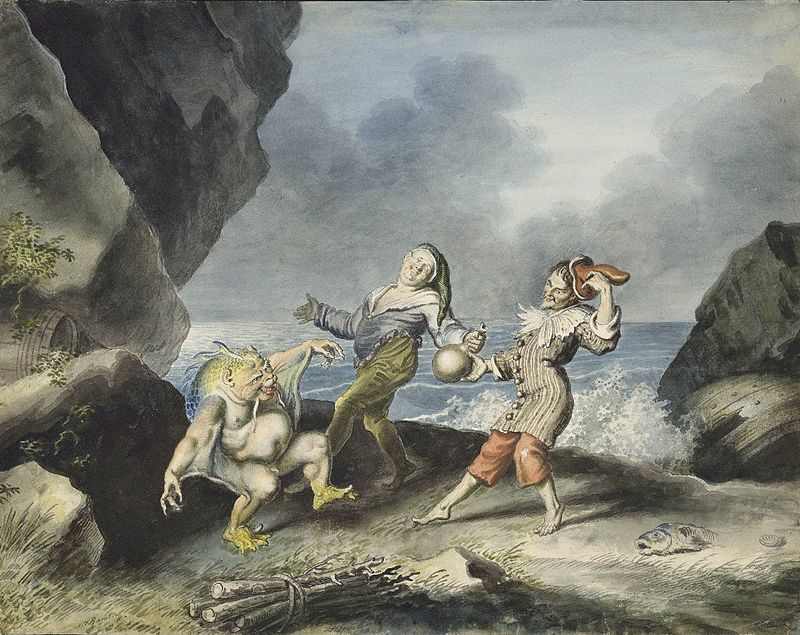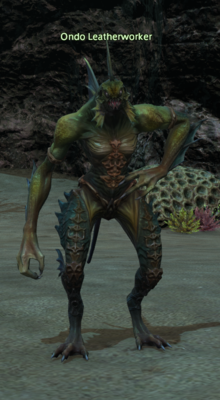 Left, a fishlike Caliban as imagined by Johann Heinrich Ramberg.
Right, an Ondo in The Tempest of FFXIV.
​
***
I find it interesting how prominent these references are in
Shadowbringers
. Has anyone spotted anything else? I know there are numerous quest titles which use Shakespeare puns too (things like Goggeo and Tholliet as a dwarf parody of
Romeo and Juliet
). Thoughts?