Joined

Aug 9, 2009
Messages

117
Age

34
Location
Gil
Gold Points
Community Tokens
So I finally went and did it. I hacked my PS2 to run ISOs off a hard drive, and so I finally started playing an RPG that I remember seeing advertised back in the day but didn't have the money for:
Shadow Hearts
.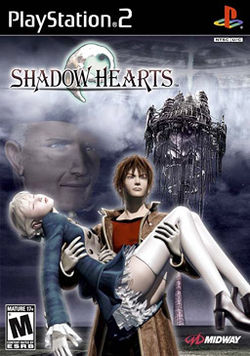 Imagine if you took
Legend of Dragoon
's battle system and grafted it into a Lovecraftian horror story set in 1913, and you have
Shadow Hearts
. Its plot--which I'm only about a quarter of the way through--deals with a French priest's daughter named Alice Elliot and Japanese changeling named Yuri. Alice is wanted by some dark necromancers so they can perform this end-of-the-world type ritual. Yuri has daddy issues and a bad attitude but also a total hard-on for Alice, whom the voices in his head have told him to protect.
If you've ever played the board game
Arkham Horror
, then you will be very familiar with the concept of one of the game's most unique gimmicks: Sanity Points. That's right. In addition to HP and MP, you have to keep track of SP. Every turn in battle, your characters lose 1 SP, and when they hit zero, they go Berserk and may start attacking your sane characters. If they're still insane at the end of battle, they get no EXP. Also, whenever Yuri transforms into his beast/spirit forms, it costs him sanity points. He starts with like 35 SP, but poor frail frightened Alice only starts with 5.
I haven't been this captivated by a jRPG since
Final Fantasy X
. Who else has played it?