Joined

Dec 14, 2006
Messages

11,628
Location
Gil
FFXIV

Mitsuki Calei
FFXIV Server

Lamia
Free Company

Gaia
There's been a few changes with the reputation system in order to rationalize the numbers, particularly the users' rep power. As you all know, we had over a million rep power as years went by. Numbers got out of control due to that the initial setup wasn't properly configured then. One negative rep from a user to a new registered member would show a red bar under the new users' postbit, so to make things fair and reasonable, numeric changes were implemented recently. Besides, might as well work with numbers that's easy to understand, yes?
This actually won't affect most of the current users' reputation status. However, the rep power has decreased significantly. There's now two ways to raise rep power: x amount of posts (in our case every 500 posts = 1 point of rep power) and register date factor (365 days = 1 point of rep power). Don't mind lowering these numbers a bit (this would increase our rep power a bit as well)... instead of 500 posts, we can go with 300 posts or instead of 365 days, we can cut down in half. We'll wait for feedback, but for the time being, this is the current setup.
After doing a few tests, we found out that when handing out negative reps to others, the negative points would be about half of your rep power. For example, I have a rep power of 25. If I were to give a negative rep to someone, the amount would be -12. So going with these new numbers, the reputation level were also altered to complement the new changes.
Here's the rundown for reputation level (not to be confused with rep power):
**Updated**
-1000 - User is a NORG
-500 - User deserves Quistis' whip
-200 - User is a Chicken Wuss
0 - User is unknown
10 (default for new registered users) - User is a SeeD candidate
100 - User is a SeeD Cadet
200 - User is SeeD Rank 1
300 - User is SeeD Rank 1
500 - User is SeeD Rank 1
700 - User is SeeD Rank 15
1000 - User is SeeD Rank 20
1500 - User is SeeD Rank 25
3000 - User is SeeD Rank 30
5000 - User is Class A SeeD
vBulletin's default (which is similar to ours, except for the points):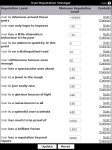 We were hoping to create our own unique moniker for each reputation level that users are associated with, but as I stated, this won't really affect current users much (except the low rep power), mostly the new ones. As of now, we're using the vbulletin default but this might change soon.
Also, as some of you probably already know, you can give five reps daily. We can keep it as is, or change that to three reps daily. Minimizing it to three ma
y encourage a more positive way of using the rep system overall, depending how you look at it. Users would be more careful and put more thought with who they hand out reps to (both positive and negative), which could bring about a more fun way for handing out reps. Think of it as Candy Canes for All during Christmas time. Or not. =P Up to you guys. Don't mind keeping the five daily.

**Rep comments will be unaffected, so you don't have to worry about any of that disappearing.
We hope that these new changes will bring a more structured rep system and encourage users to spread the love.
Questions? Ask away.
***If you would like a reputation level reset (will not affect rep comments you've received so far), please post here or PM one of the admins. Your rep level (not rep power) will reset to the default number 10. The advantage to a reputation level reset is that you can participate in the SeeD Ranking Reward. As you gain SeeD Rep level, you can ask for a Gil reward every month. Only available to new members from hereon and those who decide to reset their rep level.

Reputation Rules & Regulations: http://www.finalfantasyforums.net/threads/60118-Reputation-System-Rules-amp-Regulations

Reputation Reward:
http://www.finalfantasyforums.net/threads/60113-Reputation-Reward


Last edited: