​
Heimdall's horn has sounded for all mythology fans!
Norse Myths That Inspired Final Fantasy VII
is the latest book by award-winning Final Fantasy community author M. J. Gallagher. This ambitious, well-researched work examines how Norse lore and Viking culture manifests in the locations, characters and themes of the
Final Fantasy VII
Compilation
.
The book has launched today on Amazon, and you can buy it by
clicking here
.
Behind the Book:
Forum members here may remember that M. J. Gallagher wrote a guest
Mythology Manual
article about Odin in the Final Fantasy franchise for issue 3 of FFF's
Timber Maniacs
magazine (
pages 5-14
).
In many respects M. J. Gallagher could be described as the Allfather of Final Fantasy community authors, possessing an insatiable thirst for knowledge and a knack for conveying this meaningfully to others. He is the renowned author of several unofficial Final Fantasy novels, initially the ongoing unofficial novelisation of
Final Fantasy VII
. For KupoCon he authored
The Nibelheim Incident
and co-authored the
Final Fantasy VIII
novel
SeeD: The Beginning
with Micah Rodney. He is also the author of
Axtelera Ray™: The Chronicles of Astrone
, a superhero fantasy interwoven with global mythology, co-produced with Alroy Jovi.
M. J. Gallagher adapts his fantasy novel writing expertise to this new venture, a non-fiction book edited by Kira Ravens, which makes full use of his mythological knowledge.
Kayley Henderson
, the cover and interior artist, is a tattooist by trade and has also carved for herself an impressive reputation in the Final Fantasy fandom. She also provided the interior artwork for
SeeD: The Beginning
presented by KupoCon.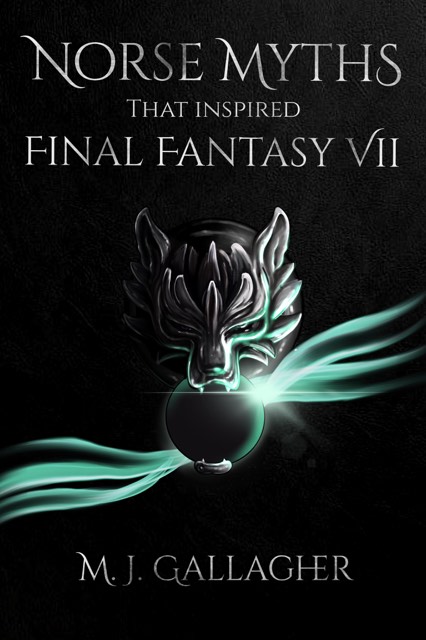 ​
Why read it?
To those outside the fandom, the book's title and subject matter might come across as very niche, but that does not make it narrow and scarce of content.
Hardcore fans of the game will already be familiar with many of the more explicitly acknowledged references to Norse mythology (such as the towns Midgar and Nibelheim originating from Norse cosmology), but this book takes the subject to the next level with its original, imaginative, thematic comparisons which are not only fascinating, but argued convincingly. The game deserves such in-depth analyses which M. J. Gallagher provides with confidence.
An example of an exceptionally original take, and a personal highlight from the book, is a chapter dedicated to the alien entity Jenova. Fans often focus on the Abrahamic allusions and 'weird fiction' genre influences on Jenova, but M. J. Gallagher presents an alternative reading comparing her with the Norse goddess Hel. This is a fresh, new angle and it ties in beautifully with the arguments made throughout the entire book.
As deep-thinking fans are wont to do when analysing the themes of the Final Fantasy franchise, M. J. Gallagher dives down multiple rabbit holes, but he does not get lost in any of them. Nor should he lose the prospective reader by overcomplicating the comparisons, as interest is maintained throughout.
Norse Myths That Inspired Final Fantasy VII
is suitable for a general audience, serving as an intermediary gateway text into the discipline of mythological reception studies and the fandom of Final Fantasy. With narratives and arguments that flow like honeyed mead, the book is highly readable for anybody with limited or no familiarity with either (or neither) Norse mythology or the
Final Fantasy VII Compilation
. It is written in a way which does not assume prior familiarity as M. J. Gallagher informatively contextualises historical/mythical and franchise details with succinct clarity. The accomplishment of this precision cannot be overstated in a work which includes original, metaphorical interpretations of the material alongside explicit mythical references. M. J. Gallagher probes deep enough to retain the interest of readers already familiar with mythology, striking an appropriate balance.
The layout of the book mirrors the world tree Yggdrasil itself by neatly connecting unique chapters in a logical, structured format, divided into fifteen chapters across five parts. The section groupings and the ordering of the layout facilitates the reader's journey through the varied material presented. The chapters interconnect, and internal cross-references to previous and later chapters will be helpful to the reader without disrupting the flow in the chapter at hand.
Each section of the book is fronted with stunning full-page illustrations by Kayley Henderson. These sublime quality art pieces capture the essence of each section.
Norse Myths That Inspired Final Fantasy
VII is a must-have for those of us who are interested in exploring the mythological allusions and comparisons within the Final Fantasy franchise.
Sharing its release year with the first part of the
Final Fantasy VII Remake
, the book could not have been released at a more opportune time. This year has felt a bit like Ragnarok to many, but Final Fantasy fans have also been fortunately distracted with truly wonderful things. You can count this book amongst them.
-
If you like this book and would be interested in supporting M. J. Gallagher, consider visiting his Patreon:
Become a patron of M. J. Gallagher today: Get access to exclusive content and experiences on the world's largest membership platform for artists and creators.
www.patreon.com
You may also want to join his 'Mythology in Final Fantasy' Facebook page:
https://www.facebook.com/FFMythology
You can purchase the book here:
https://www.amazon.co.uk/Norse-Myths-Inspired-Final-Fantasy/dp/1838009604/ref=mp_s_a_1_1?dchild=1&keywords=final fantasy norse&qid=1602610312&sr=8-1&fbclid=IwAR0Ub1K3JPkNGRZ3BLvDpz98IgAhrZhP0mE6yUGj1KOwc7ckcsj1ugTEREs