Βρεκεκεκὲξ κοὰξ κοάξ
Staff member
Administrator
Veteran
Joined

Jun 26, 2008
Messages

5,523
Location
Gil
Gold Points
Community Tokens
FFXIV

Polyphemos Bromios
FFXIV Server

Lamia
This is a pre-Birthweek sign-up thread for
Moogle Murder Mystery II
!
Good job I started planning this before work on the
magazine
got started, otherwise there would have been no chance!
I will try and have this event ready to start as close to the beginning of Birthweek as possible.
Last year's event (see
here
and
here
) was a huge success. Will you help make the sequel as good as the original?
***

Moogle Murder Mystery II
​
Murder! Murder!
A new 'Mog Doe' has washed up on the shore of Whitnut-on-Sea!
The small seaside town is now on lockdown while we wait for the detectives to arrive.
This is where you come in!
Moogle Murder Mystery is a whodunit game where you can create a detective character, explore the area for clues, and find out what happened to this unfortunate victim, his identity, and why he was murdered.
This game might seem daunting at first, but it is actually very simple and requires a minimum of effort from you. Please expand and follow the following sets of rules to help you in this game.
Designing Your Detective:
Please follow this simple template for designing your detective:
Name:
Appearance: (write a short description or post an image for me to base your character on).
For example, someone might be inclined to post the following:
Name: Inspector Bottlenose
Appearance: I want a kick-ass dolphin detective who is suave, plz!!!!
I will then produce the image of your detective as such: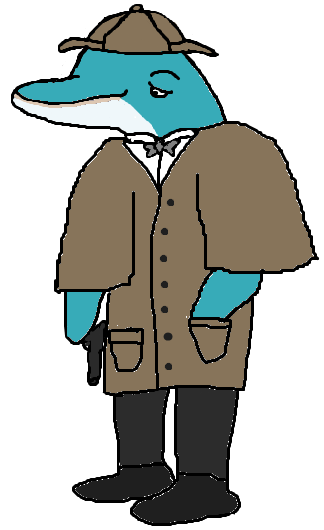 A miniscule version of the image will be placed on the map and will be moved on each turn to the location decided by the player.
For this example the test player has decided to let Inspector Bottlenose investigate Mog Doe's body:
(The below preview is a work in progress and is very likely to change)
IMPORTANT NOTE:
You may take your character creation as seriously or nonsensically as you like, but we cannot allow extreme nudity and sexual content. You may find a limited handful of nudes and suggestive content in Whitnut-on-Sea (because this is a parody of a seaside town, and seaside towns do sometimes resort to that sort of thing), but nothing is 'shown'.
Let's not get too crazy.
For returning players:
You may use your previous detectives again if you like, or you can create a new one.
Rules of the Game:
It is suggested that you refer back to these rules if you are ever unsure about the game.
Turns:
You all have one 'Turn' per round. A round ends when the game's host (Dionysos) updates the map and reveals the outcomes of your turns.
Each of your turns can have two parts*.

1) Moving to a location (into any unlocked room up to a particular object).
2) Actions (interacting with an object or talking to an NPC).

Interactions shall be drawn and updated on the map (with larger drawings showing particular moments of note).

*Your move can have three parts if your most recent turn saw you interacting with an object small enough to pick-up or in instances of special interaction. In these instances you will be prompted and asked if you would like to pick up and keep the item or interact with it in a special way (this does not affect the two parts of your turn). Some items will be granted to you automatically.
Moving:
Since you can move to anywhere on the map you can move great distances with one move. You do not need to waste a move interacting with doors. Imagine that most doors are unlocked and you can request to move to a particular item in another room at the other side of the map if you wish.

There are some exceptions. Some doors are boarded up, meaning that the doors are locked or the building behind them is closed. Depending on your actions, some circumstances may change, but others may remain closed throughout the duration of the game.

Police cordons and tape may also block some roads. This means that the player cannot access these locations.

Moves which 'discover' a new area such as following the road to go further into town will count as exhausting both aspects of your turn. Once the area has been discovered you can move freely between maps.
Interacting with objects:
You can interact with objects to examine them, or you can use an item from your inventory which you have found or picked up.
All detectives start without any abilities. Do not request to use X-ray vision or any special abilities in your moves unless you have picked up an item which enables you to do something.

If you cannot make out what an object is by its miniscule representation on the map then just make reference to it as being 'the item next to so and so, in so and so a room'. Rooms are all labelled above the room on the map, and buildings often have clear signs indicating what they are.

Try to be smart with how you deal with objects. When you examine them, think outside of the box with what you can take from them. It might just work!
Non-Player Characters:
You're not alone in Whitnut-on-Sea! The police have stopped anyone from leaving the popular seaside town. This means that you have a number of potential witnesses to the murder to interrogate!

Treat the NPC characters as you would treat objects, but you may also wish to ask a specific question (one per action) or use an item on an NPC. They might respond to you and tell you something, or they might not. Some NPCs might not be very cooperative unless the conditions are right!


Tip: Although the main NPCs cannot leave the area, NPCs have their own motivations and may move about based on their own desires. You might want to keep an eye on them.
Discovering clues and scoring points:

For each clue which you discover you shall be rewarded points. The more important the clue is to solving the murder the more points you will receive.

The winner of the Moogle Murder Mystery shall be the player whose detective has discovered the most important and valuable clues. This is NOT necessarily the same as the player who collects the most amount of clues, but the player whose total value of collected clues is worth more (i.e the murder weapon).

All knowledge is shared in this game, but only the people who find the clues gain points for them. If people remain alert to what other people have been discovering, anyone can follow a trail of clues to find another clue, and so on.
Side-quests:
Lots of things happen seaside towns! The unidentified Mog Doe is only one mystery left to be solved. Outside of the main storyline there are several side-quests if you wish to pursue them. You will get points for these too and special surprise rewards if you do well.
Clues related to the moogle murder generally score you more points than clues related to side-quests and other mysteries, but all clues will score you some points.
Hazards and Dying:
There are many items in this town which may harm your character. Some objects might inflict a status effect (requiring an item to fix), some might kill a character within a number of turns if the player does not seek aid, or some might even instantly kill an unfortunate character if the conditions are right.

If you do die, and I expect some of you will, do not worry. Death is not the end. You may purchase the 'Twin Turtle' in the MogShop for 500 Gil and create a new character if you wish. Since the new MogShop has not launched yet, we can arrange an agreement that such a transfer would take place as soon as it launches.

There are also some item-activated chances for revival in limited circumstances (if other players decide to revive you and discover how). If this happens and you end up with two characters in play at the same time then this will be allowed, but only the character with the highest score will be counted when calculating the winner at the end of the event.
Once the game starts anyone can join this game at any time. There is no cut-off point for sign-ups for detectives solving a crime. However, we don't want to let this become a cold case. The event will end when other Birthweek events have ended. The earlier you join the higher your chances are for solving the crime and getting larger rewards.
Who volunteers? Who do you want to be? Do you work alone, or do you help each other? How you play is entirely up to you.
This thread shall serve as a sign-up and discussion. Please request your detective creations here and leave any questions or comments about the game.
Another thread containing the rounds and map updates shall be created to run parallel to this one when the game begins when Birthweek officially starts.
Last edited: