Βρεκεκεκὲξ κοὰξ κοάξ
Staff member
Administrator
Social Media Team
Veteran
Joined

Jun 26, 2008
Messages

9,241
Location
Gil
FFXIV

Polyphemos Bromios
FFXIV Server

Moogle
Free Company

KupoCon
This is the game thread for
Moogle Murder Mystery II
.
For rules, sign-ups and general discussions please see the
other thread
.
Remember, anyone can join at any time. If you want to enter a detective, just sign up! You may just work out the clues and solve the mysteries...
In this thread I will post the updated maps and round details, and contestants shall post their turns in here.
You can also check here for updates on the detectives, their collected clues and their inventories.
Participating Detectives:
Count Clarence Cluckbeak, aka The Bane of Fowl Play: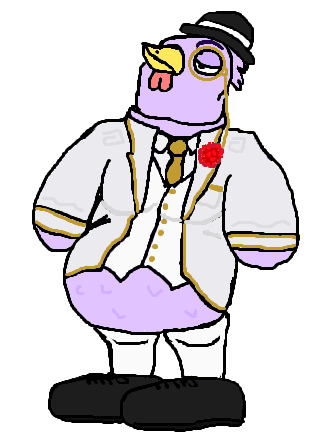 Reports to:
Linnaete
Clues:
The 'Mog Doe' led a lifestyle which Father Pompous disapproves of.
Two starfish have attached themselves to our 'Mog Doe'
The shark is known to lifeguard Damane, but it only eats dead flesh.
NUTS is an acronym for Nostalgic Unit for Tree Societies. They believe in strict moogle-pure lifestyles free from human cultural influences.
The NUTS member with scars scares Kupa Skiphop (the barmaid of The Tidus' Head).
Pomid Hasselmog claims that suspicious people have been lowering items down the cliffs in a bucket.
Andre the Adamantoise's wife has assumed command of his crew. The crew are still in Whitnut according to Fura Hugwood.
Pomfri Kisbug intends to reintroduce oglops into the wild at Whitnut.
Independent deduction: A ghostly sea monster has been captured on camera.
Independent deduction: Captain Andre and Annie the Adamantoises are on a photograph in The Tidus' Head. The same Annie is on the beach.
Annie says that McHank had a special arrangement with the ghostly sea monster.
The plesiosaur specimen in the Fossil Club is Plesiosaurus shirudora. Pom Pommond's geneticist once cloned one but it was lost as a baby.
McHank stopped meeting pirates after his captain was booted out under suspicion of stealing cargo from the confederacy.
Father Pompous decided a while ago that he should do something about the 'sinners' in town. The Father has been blackmailing them by threat of exposure.
Father Pompous reveals that being raised by dolphins is a euphemism so that certain 'sinners' can recognise each other.
Phidias Morrowsee says that the sand showed him that the shark kept the beach clean and guarded it.
Hasselmog suggests that someone must have stolen the shark's remote control and broken it.
A scrap of paper falls from the 'beach butt' as it was kicked.
Nutalie says that McHank's autobiography reported that people would surrender their goods to him when he sailed.
Pomerta Wing says that the Baywatch team know how to use the shark remote, since they own it.
Pomerta Wing suggests that people should be considering why the shark remote has been stolen and misused only now.
Kuporge Pomard Jr. would like his harpoon back.
Kuporge / Karl Abos points out that he only has two hands, a foot, and a head.
Inventory:
A scrap of paper found in the 'beach butt'
Broken harpoon.
OG Angry Bird: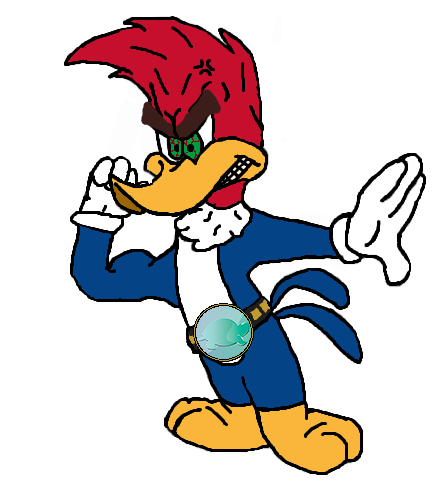 Reports to:
sly
Clues:
Paintbrush covered in pink paint was found underneath the Nippynut's Nudist Beach sign.
The surfers known to the Tourist Info attendant Mogsteven are: Pomeidon, Furaway, Fura, Floppom, Kupostrous.
St. Mogin is no longer politically correct.
The dead surfer is Furaway McHank, according to Nutalie Selz. His death is likely to be of great benefit to Pomeidon.
Angry Bird independently recognises that Furchin Pomsnore has drowned and is floating upside down.
Damane Mogson is relieved that Furchin died before he could be ghost food.
Damane Mogson ponders over whether 'the prank' went too far with regards to the sinking boats.
A sword with bloodstain at its tip was found in the cave.
Phidias cryptically suggests that the sand warns him.
The bloody sword's hilt is engraved with a symbol and the word 'Chipper'.
Modern surfers have forgotten the original religious nature of surfing. This angers Father Pompous.
The cave pirates imply that there are multiple captains of the confederacy.
Old Pommy believes Pomeidon to be the most talented surfer there is. He warns not to trust the pirate one.
Nutloote the pirate woke up when he heard the pirate party approaching The Tidus' Head
The note pinned to the wall of the cave reveals the captains, ships, and code of the Crossbone Confederacy.
Nutloote the pirate celebrated the previous night and had too much to drink.
Island of Kuposus map.
The blood on the sword has dried on.
Annie speaks of a certain Karl Abos who was marooned on a previous occasion.
Kuporge Pomard Jr. explains that people who have been banished are never the same again if they survive...
Somebody has recently turned the harbour into a nudist beach, according to Ultros.
Mogabod explains that he restored some artefacts from the Moogle Museum to their rightful owners, and donated some of the forgeries to homes who needed them.
Pirates love the barrel-themed hot tub.
The sleepy policeman dreamily states that his coffee tasted odd.
A photograph of some pirates is discovered at the hot tub.
Pomerta Wing knows where shark remote is kept.
Pomerta Wing mentions that Karl Abos used to follow her to the location where the remote is kept.
Ruff 'Chops' Hugwood mentions that the harpoon accidentally touched the death-god statue and caused something weird to occur.
The harpoon was Karl Abos' weapon of choice.
Mogabod and his daughter, Mogette, recently found a strange one-legged man on a deserted island and rescued him and lent him clothes.
Polyphemos Bromios doesn't think a return of Karl Abos is very likely, for surely the Confederacy would recognise him and apprehend him.
Arnut 'Chipper' Keelpom swears he lost his cutlass recently.
Furaway McHank was run through the abs all the way through. There is a stab wound.
Kuporge Pomard Jr. is definitely Karl Abos.
Annie the Adamantoise wanted rid of both Karl Abos and Captain Scherwiz.
Inventory:
Pink paintbrush
Fishing rod
Aerith corpse
Mitsuki's Notebook
Camera
Assorted photographs
Golden megaphone (controls Moogle Doll)
Bloody sword
Gold and silver oglop statue
Pirate group photograph
Raptorbo: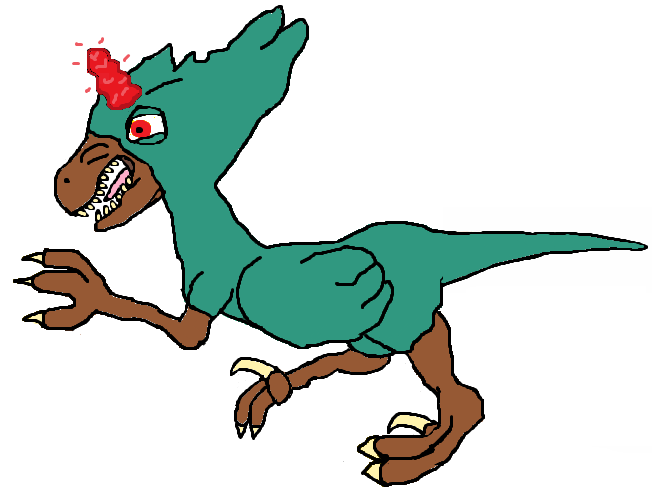 Reports to:
Soulcorruptor
Clues:
Fish and chips remains and litter are present in the rubbish bin.
Pomeidon has been training for the surfing championships.
NUTS graffito on the wall near the toilets.
Kuporge Pomard Jr. warns of pirates, surfers, 'Oglop-lovin' creeps' and NUTS fanatics.
There had been a deadly rivalry between the two best surfers, according to Mogabod.
A statue of the ancient moogle god of death is found next to a recently pinned NUTS banner in the Great White Kuponut Tree.
Pomeidon claims that he wanted to humiliate Furaway publicly as revenge.
KFC had been threatened by a warning nut from NUTS that if they did not close, NUTS would close it for them.
NUTS stop throwing nuts at Raptorbo after they accidentally strike Fura Hugwood.
Many bank customers list their parentage as 'dolphin'.
The shark is a robot! It has washed up on the beach.
The ownership of the robot shark is marked 'Kupocestershire County Lifeguards' on the robot's panel.
There is circuitry and wiring within the body of the shark.
The wires inside the robot shark are live! And dangerous!
A handful of chocobo eggs were found in Old Pommy's wardrobe.
The backdoor of Old Pommy's cottage leads into the garden in Upper Town.
A note in Old Pommy's cottage suggests that the old moogle had an understanding with the pirates which might put him in danger now that the Confederacy is 'breaking apart'.
Old Pommy claims he is done with pirates and that Father Pompous has his back.
Father Pompous is 'off to slay them all'.
Inventory:
bucket of fried chickenosaurus (consumable on request)
Handful of chocobo eggs
Note from Old Pommy's cottage
Chav Gerry Adams:
Reports to:
Paddy McGee
Clues:
Phidias tells Gerry to look and he shall see what can be...
Weeping kupo-nut symbol and letters NUTS found attached to the Amusement Arcade which was shut down due to vandalism.
Mrs. Kupan says that the 'Mog Doe' is familiar to her, but her family are only visiting on holiday.
There is a suspicious mark on the leg of 'Mog Doe' which suggests something had been tied to it.
Some of the surfers would buy ice creams for the children in return for information.
Furaway took photographs of Pomeidon after he fell off his board. This humiliated Pomeidon in front of the entire beach.
Kupobella recalls hearing a clergyman yelling that Furaway was a sinner and that all sinners shall share his fate.
Mogsteven informs that St. Mogin chased oglops into the sea to free Whitnut of infestation. In doing so, he invented the surfboard.
Father Pompous is secretly training for the surfing competition.
A photograph of Fura surfing was discovered in the graveyard. Writing on the photograph states "Remember there is another way - Fura"
Fewer and fewer people have been attending St. Mogin's Church in recent years.
The writing on the photograph discovered in the graveyard has been added recently. The reverse of the photograph is of an earlier date (2013) revealing that Fura and Ruff are siblings.
An oglop hands over a scrap of paper with some writing in purple ink. The scrap warns about someone who has returned, and about clearing somebody.
Interceptor has a nose for investigation leads.
The dog called Interceptor is Interceptor.
The pocket moth wants a lamp.
The moth likes to flap in your face.
The pocket moth is attracted to a lit sacred lamp in the boughs of the Great White Kuponut Tree.
Ruff 'Chops' Hugwood claims that Father Pompous is untrustworthy.
Inventory:
Chocolate and vanilla ice creams (USED)

Photograph of Fura Hugwood
Scrap of paper with purple handwriting

Large moth (USED)
Tobias T-Rex:
Reports to:
Ilyena
Clues:
The moogle family claim that the 'Mog Doe' is one of 'those types' and that they get cuts and bruises a lot.
There are preserved remnants of a tattoo on 'Mog Doe's' arm.
Furchin Pomsnore heard someone shout 'Thief!' before our 'Mog Doe' died.
Ruff 'Chops' Hugwood is furious that mooglefolk have started to imitate human culture.
The radical group NUTS are suspected of causing the vandalism which shut the Amusement Arcade down.
Letter found in the Fossil Beach sack. Informs of a delivery request.
Furchin's neck was broken.
Phidias explains that a confederacy tried to harm the sand to alter their fate.
Furaway McHank was not as good at surfing as he claimed. His movements were guided by something.
Surfers often leap from the cliffs on the fossil beach, and they practice surfboarding anywhere. According to Hasselmog, Furaway McHank has never been seen doing this.
Furaway McHank used to meet with pirates late at night.
Pomeidon recalls feeling an eerie presence under his board whenever he went surfing, and felt he was pushed off, despite not seeing anything. This happened when Furaway started surfing.
Confiscated gold and a broken harpoon are discovered in the chest in the NUTS hideout.
Ruff reveals that Father Pompous' chest of gold was to go a long way in funding NUTS operations in Whitnut-on-Sea and beyond.
The robot shark can be access through a panel or through the mouth.
There are multiple objects floating in salt-water within the stomach of the robot shark.
A soaked receipt within the stomach of the robot shark reads 'Pomeidon' found in association with a can of 'Coeurl' deodorant and purchased at Kupo-Mart.
Annie believes Captain Scherwiz stole treasure from the confederacy by making up a story that her ship was destroyed.
The ocean is rather big.
The scanty remains of Captain Scherwiz's crew are committed to getting revenge on Annie the Adamantoise.
Captain Scherwiz's ship has magically risen from the bottom of the ocean.
Furaway McHank claimed he saw the spirit of Scherwiz's sea monster.
Inventory:
Sack found on Fossil Beach.
Can of 'Coeurl' deodorant.
Susan Boyle: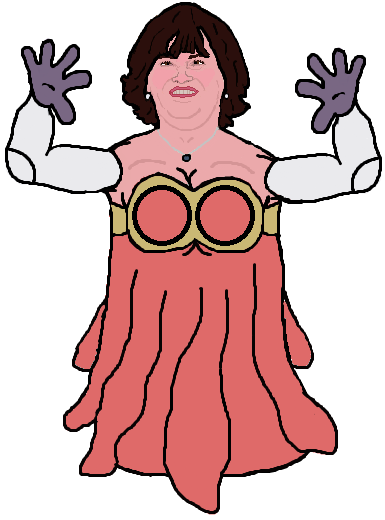 DECEASED
Reported to: Sprout
Clues:
Kupa Skiphop namedrops the Crossbone Confederacy.

Kupa Skiphop is worried that Annie will fire her if the customers are too drunk to pay.
Inventory:
Photographs and document clues:
​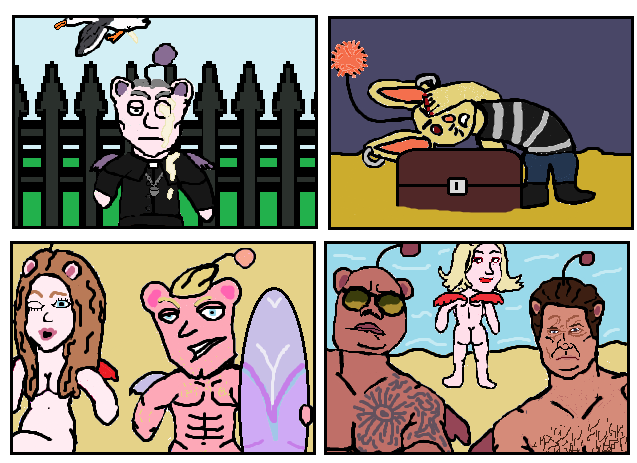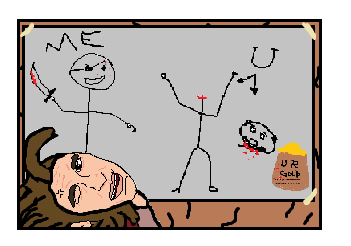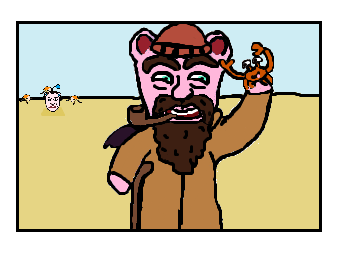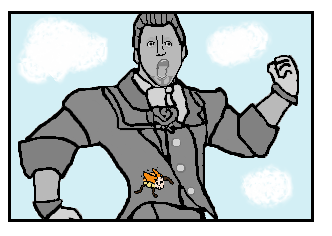 *​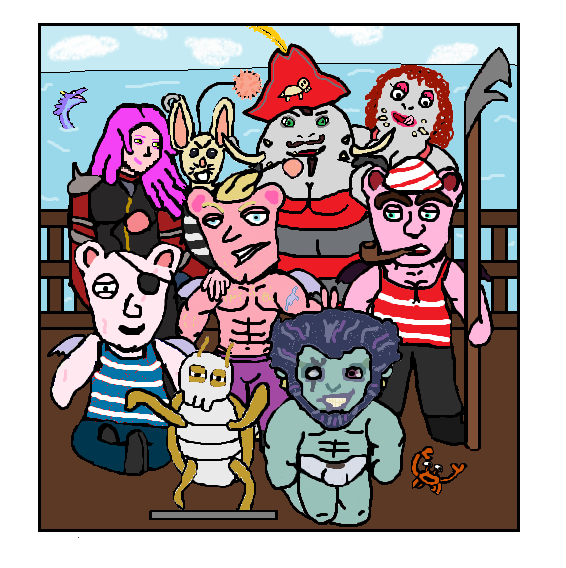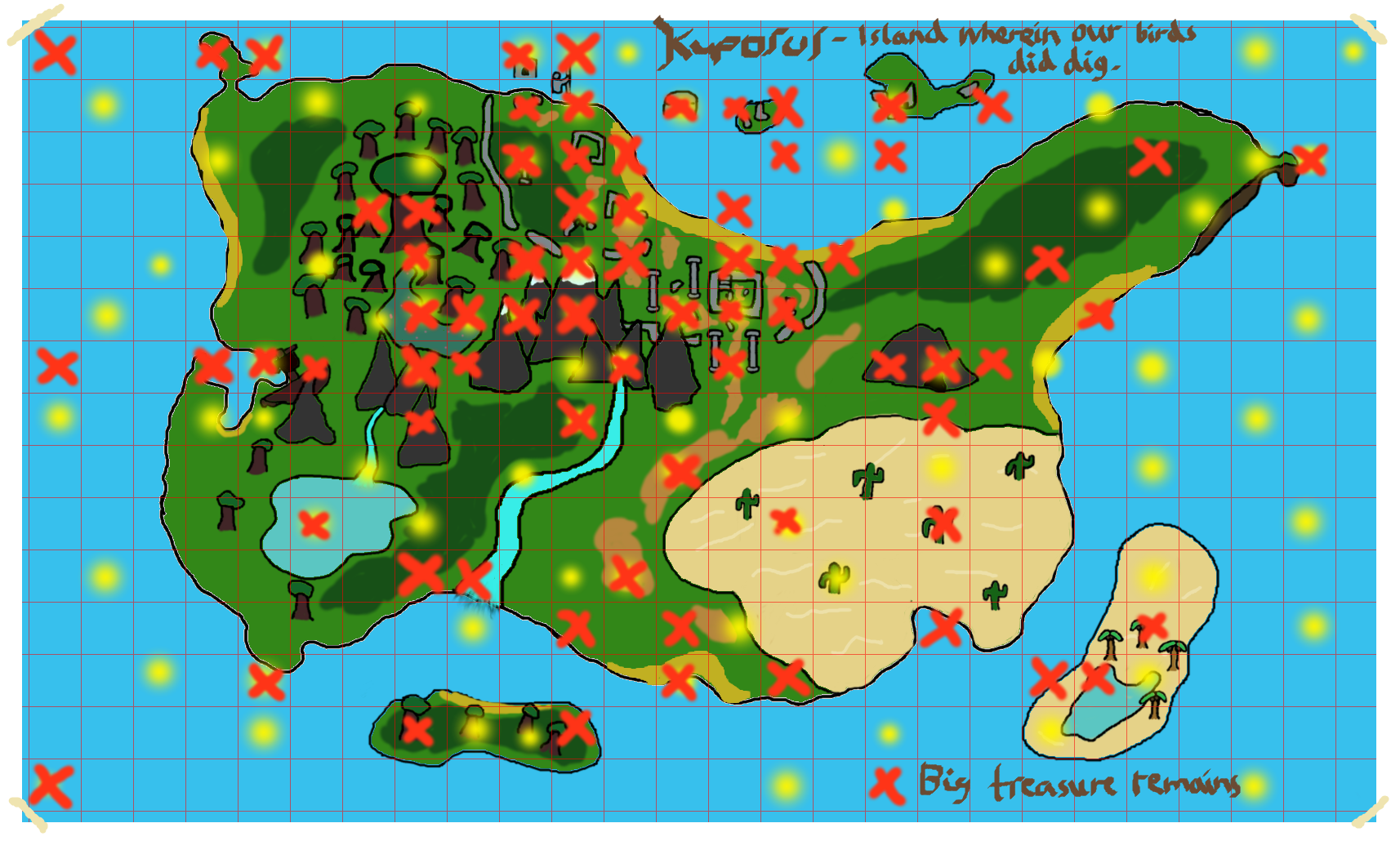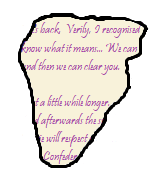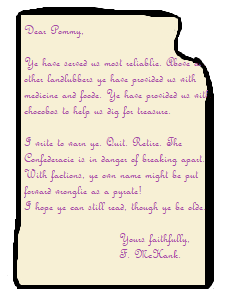 NPCs / Potential Suspects:
​
Only characters who have been interacted with appear on this list.
*Unsorted (random order)*
​
Father Pompous:
Priest at St. Mogin's Church
Phidias Morrowsee:
Sand sculptor
Pomeidon Damphare:
Furaway McHank's main surfing rival.
Kupobella Buqwyrm:
Disgraced librarian on holiday...
The Kupan Family:
A family on a beach holiday.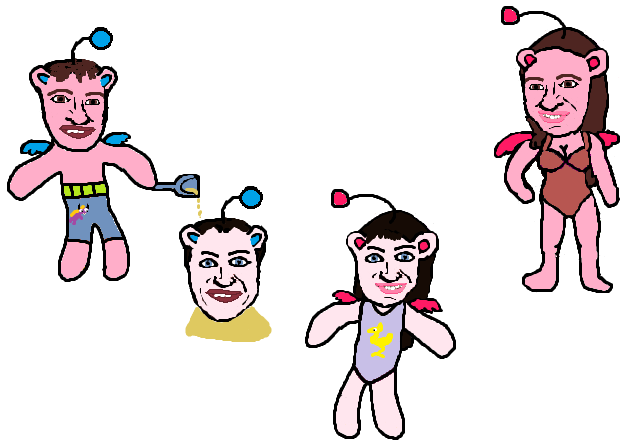 Furchin Pomsnore:
Holidaymaker who overheard the wrong thing... (DECEASED)
Mogsteven:
Tourist Information Officer.
Kuporge Pomard Jr.:
Disabled ex-sailor.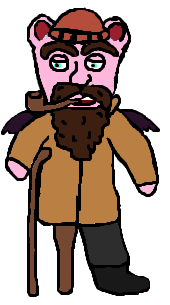 Ruff 'Chops' Hugwood:
NUTS fanatic. Brother of Fura.
Fura Hugwood:
Surfer chick. Sister of Ruff.
The Hippo Family:
A family from Alexandria on their holidays.
Pomthaniel Wingston Pomcroft:
Son of a disgraced Earl.
Kupa Skiphop:
Barmaid at 'The Tidus' Head' - recently quit after the Moogle Doll pirate crew spooked her.
Mogabod (and daughter):
New Moogle Museum manager. On a business trip and bringing his daughter along for a trip.
Nutalie Selz:
Flirt on holiday. A fangirl of Furaway McHank.
Toby the Tree:
A sentient tree.
Mogleo Kupout:
Kupo-Mart Shopworker.
NUTS Gang
(indeterminate membership numbers): Moogle purist fanatics
Pomfri Kisbug:
Mysterious individual who unleashed an oglop infestation on Whitnut.
Moogs Phingerlikingud:
KFC Employee.
Old Pommy:
Old man. Runs the Chocobo Rides.
Pom Pommond:
Fossil Club Owner.
Penny Scrimpalot:
Bank Clerk.
Shark:
A robotic shark.
Timmy the Turtle:
A grinning turtle.
Phantom Sea Monster:
Mysterious ghost....
Ultros:
A regular at Sultry Siren.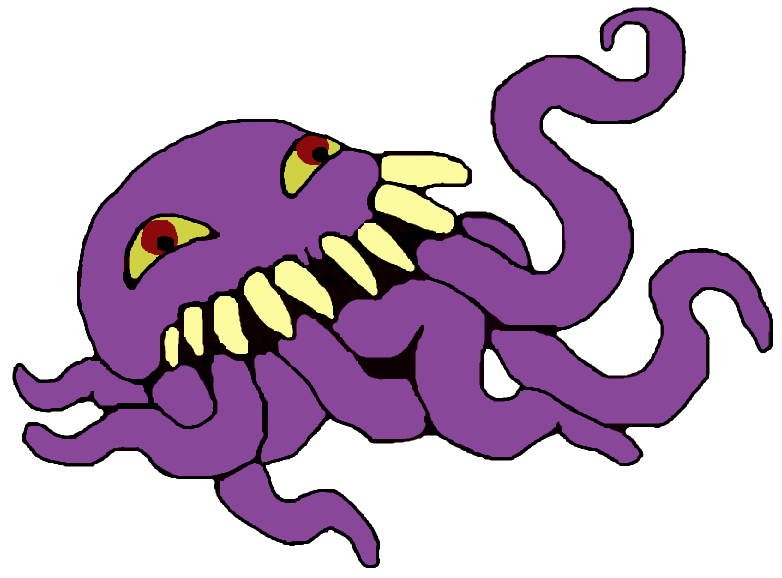 Wynona Niruton: Bartender at Sultry Siren.
Sleeping Policeman:
A sleepy policeman in the Police Station.
Shadow and Interceptor:
Taking a walk on the beach.
Pomerta Wing:
Moth:
a large pocket moth.
Pomid Hasselmog:
Damane Mogson:
Nutloote Arrpomlad:
Sleepy pirate awoken by Moogle Doll
Annie the Adamantoise:
Pirate captain. Wife of the late Andre.
Blue Pirate and Red Pirate:
Two generic pirates awakened in the cave by the Moogle Doll.
Moogle Doll:
Discovered in pirate cave.
Arnut 'Chipper' Keelpom:
The chippie chef (RECOGNISED AS A PIRATE BY SLY)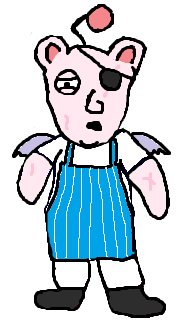 Polyphemos Bromios:
Captain of The Floating Vineyard, but also a stripper at the Sultry Siren.
Purple Pirate 1:
Remains of Captain Scherwiz's crew.
Purple Pirate 2:
Remains of Captain Scherwiz's crew.
Captain Faris Scherwiz:
stripped by the Confederacy.
Main Beach: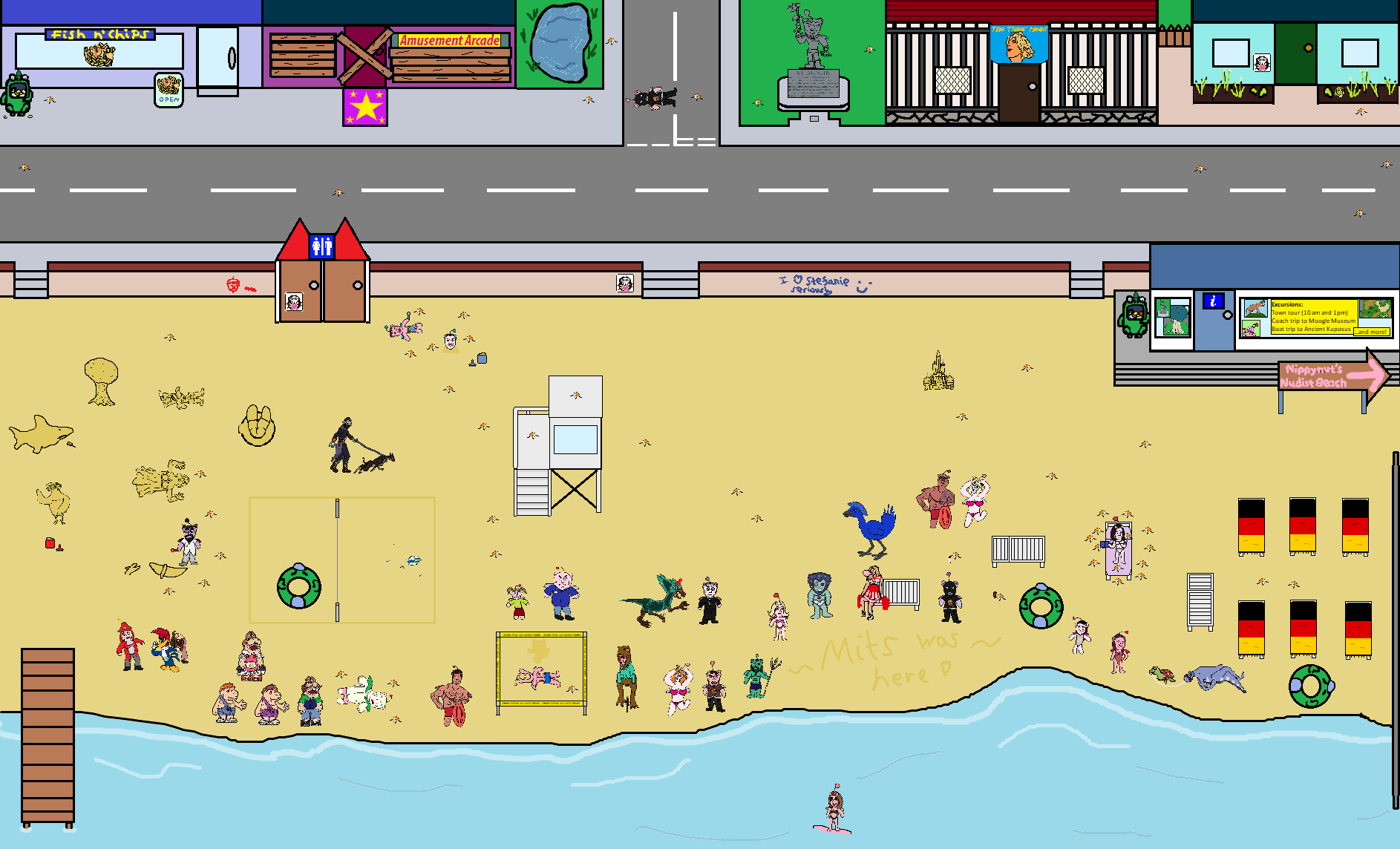 Tourist Information Centre:
The Tidus' Head:
Fish N' Chips: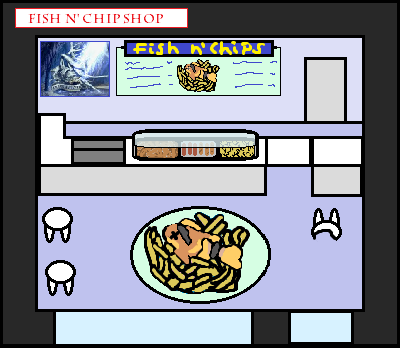 Old Pommy's Cottage: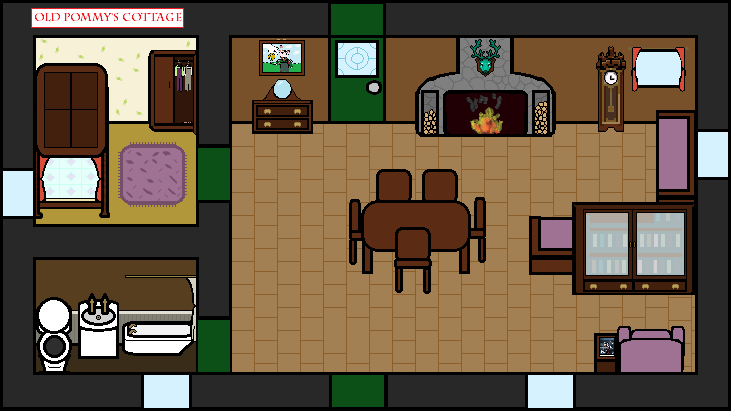 Open Sea:
More Open Sea...
'Nippynut's Nudist Beach':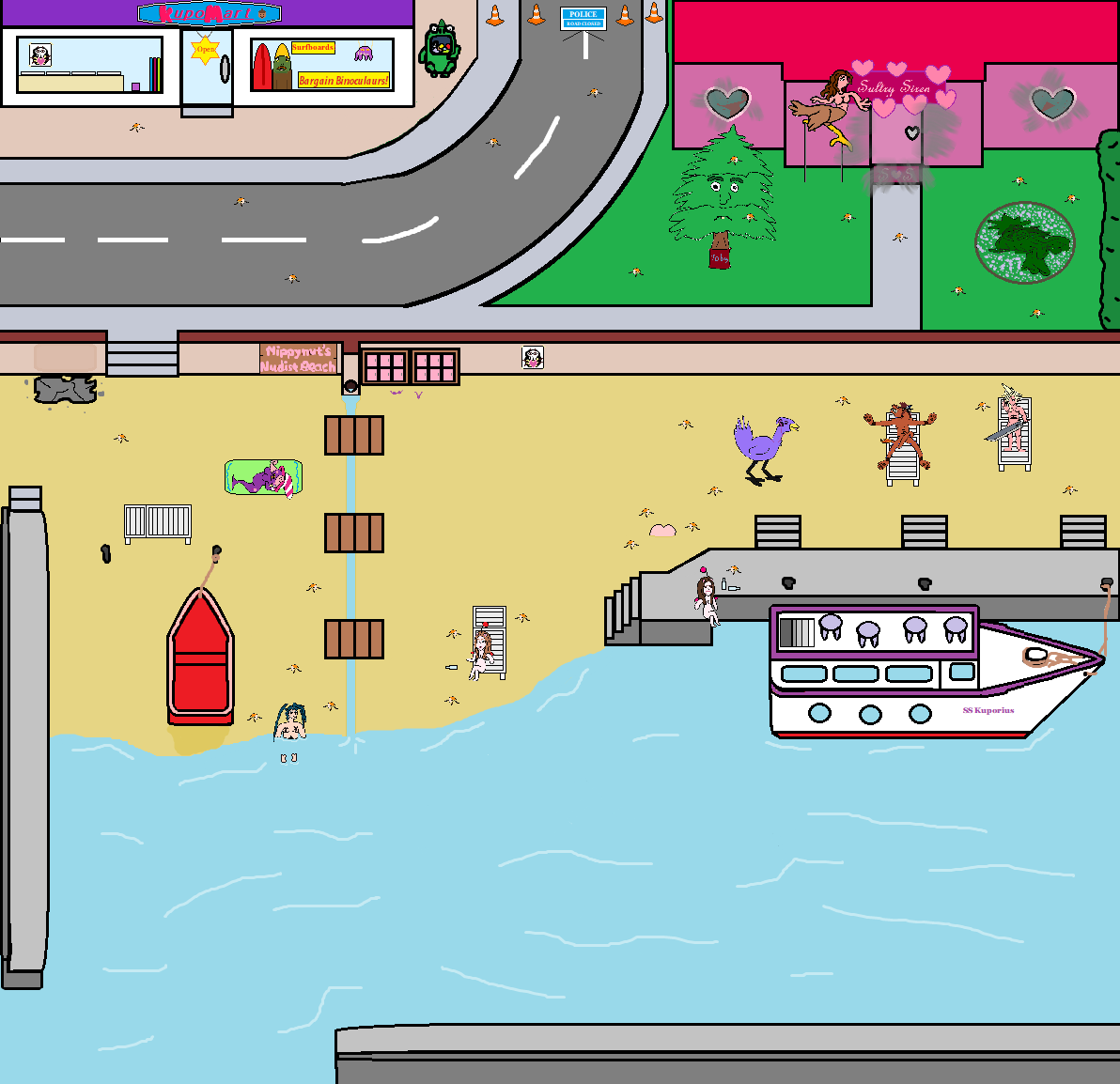 Kupo-Mart:
Sultry Siren: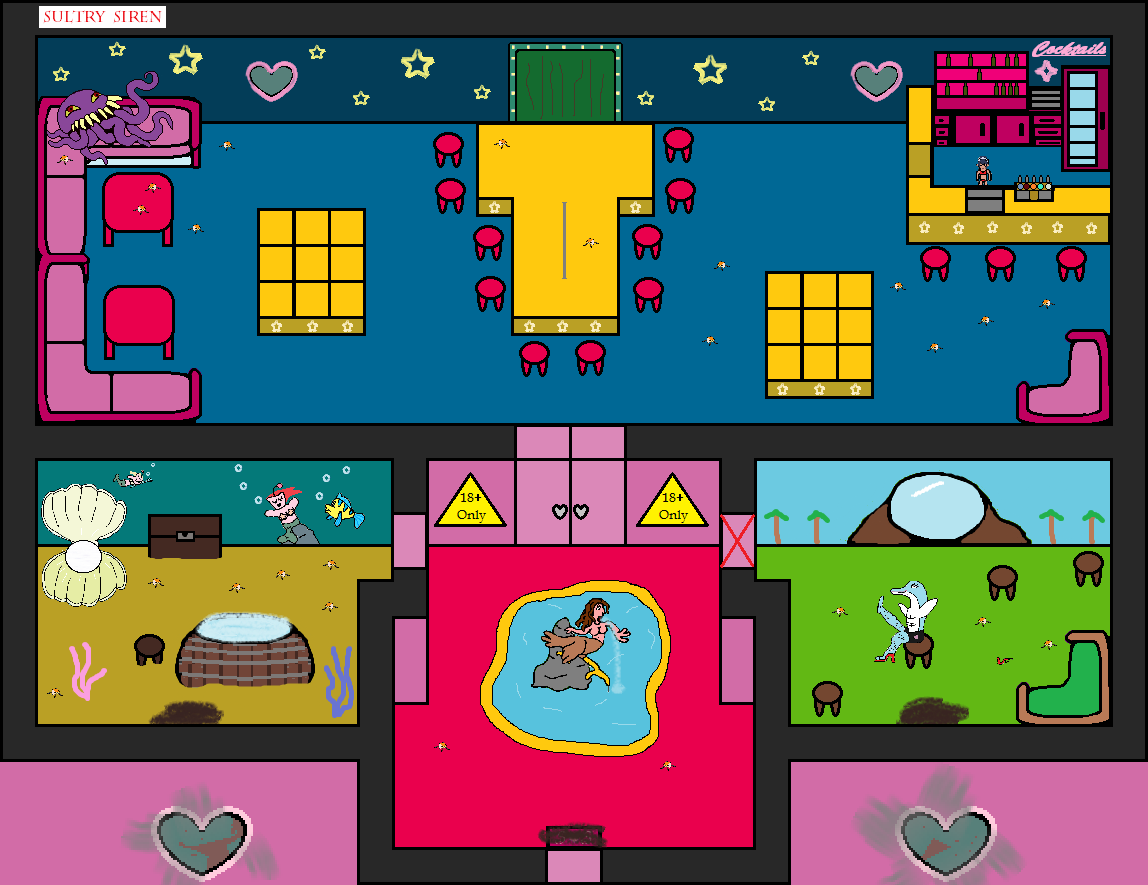 SS Kuporius:
SS Kuporius Lower Deck:
Upper Town: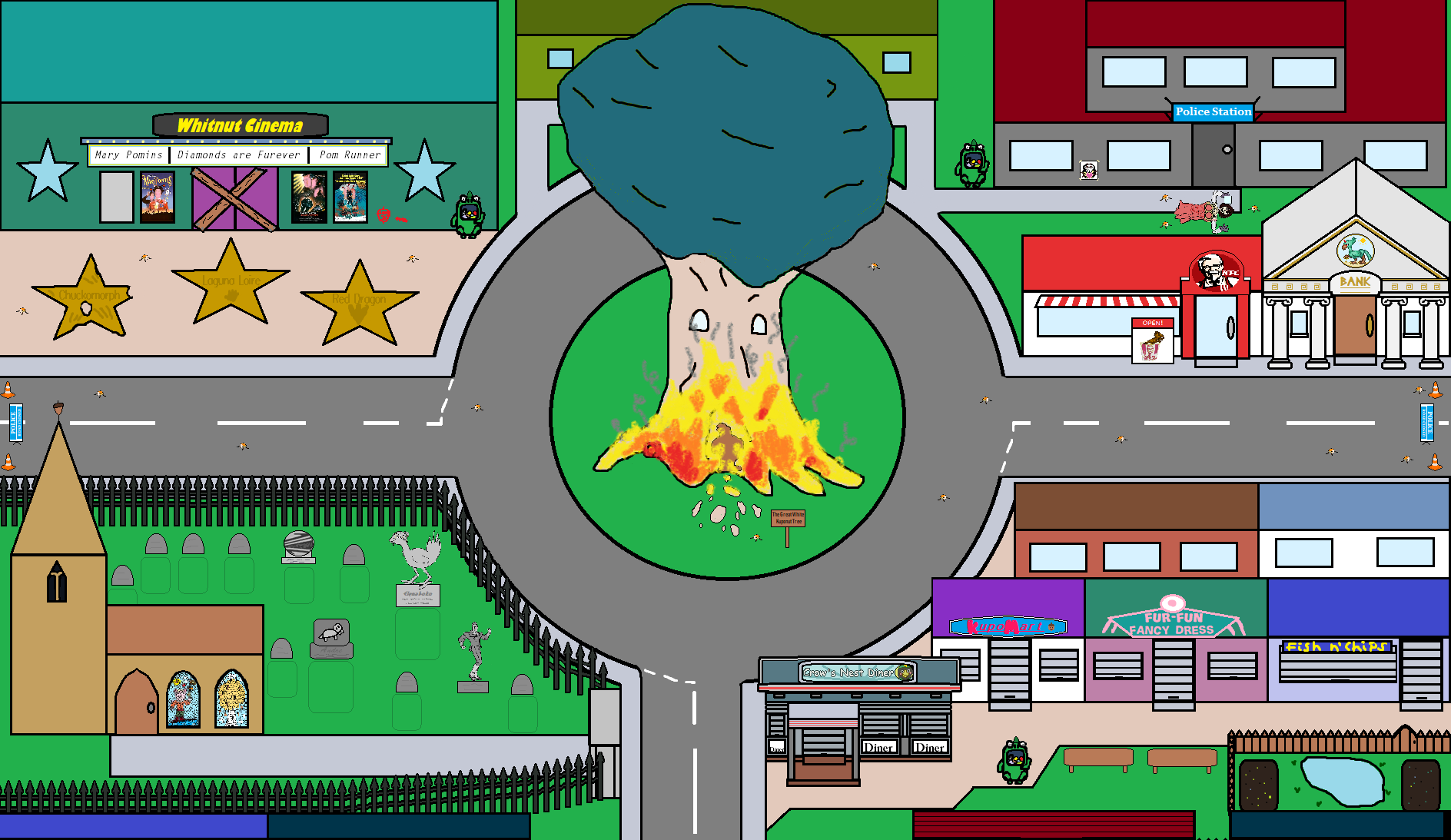 Great White Kuponut Tree:
Police Station: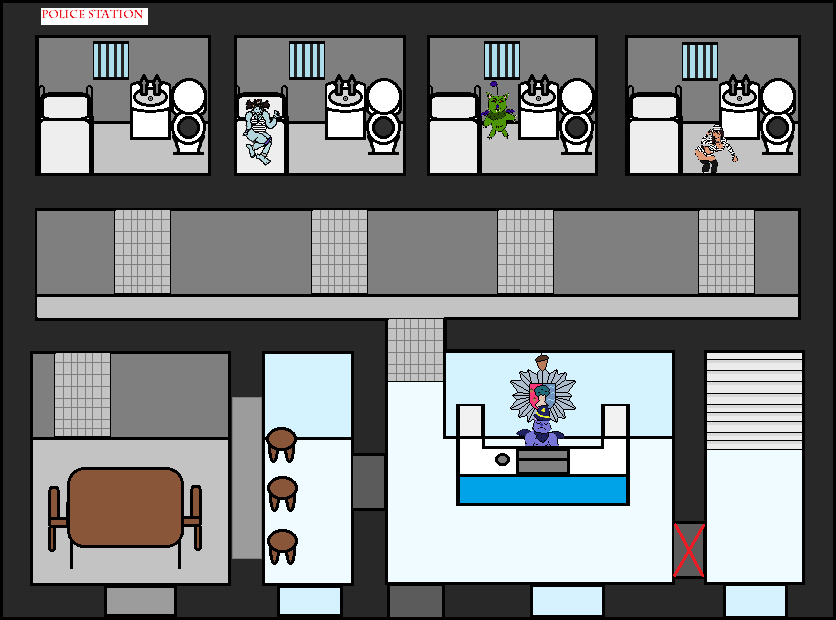 KFC: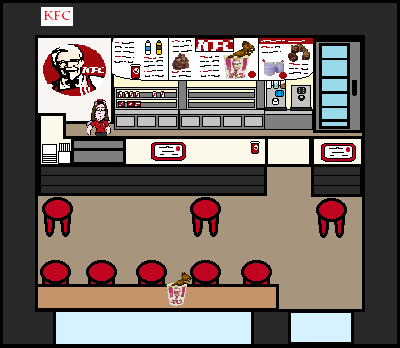 St. Mogin's Church:
Bank:
Fossil Beach:
The Cave:
Fossil Club:
Last edited: