MODERATORS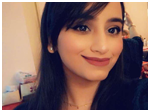 Staff Member:
shivas
AKA:
Tami
Real Name:
فـــطَّــــامـــي
Location:
UAE
Staff Position:
Final Fantasy section Moderator
Joined Site:
June 2015
Joined Staff:
June 2016
Contact:
twitter @dracuia
Staff History:
Tami joined the staff in late 2016 as a Final Fantasy moderator (spoiler alert: it's her favourite section)
Bio:
Tami is actually a lizard that lives inside a volcano (no really Dubai is SO hot), interested in art and computers and video games but was forced to take the scientific academic route by her parents in school AND forced to study chemical engineering at uni and now stuck at home unemployed playing video games and sleeping and regretting her life decisions.
Fun Facts:
- Rushed out of my mother's womb during her 7th month of pregnancy…… my grandmother said I wouldn't make it
- I have no problem eating/drinking expired food (which I ACCIDENTALLY do)
- I'm allergic to cats
Interests / Hobbies:
Video games, art, looking at pictures of cats, music.
Approachability:
124/140 on the approachability scale
Favorite FF:
Not typically fans' favourite but it's FF13-2.
- What made you decide to become a staff member here, and why do you stay?
I was actually contacted by Mitsuki and she asked me if I wanted to apply for a moderator position, and I did. I stay for all the friends I made and my love for FF (and other SE games)
- Do you find it easy to work with your fellow team members? You may give specific names and examples.
Working with the team is easy! (as long as I'm not the one initiating anything)
- What are some challenges you face (or have faced) as a staff member?
IS THAT A SPAMBOT? IS IT A PERSON? WHAT DO
- What are some key improvements you've noticed about our current staff team and administration?
Haven't been in the staff team for
that
long to notice anything like that
- In your opinion, what are the most important positive qualities of this forum?
A very friendly, inviting community!
- Describe a typical (or memorable) day in the job. What do you find most enjoyable about your job?
Reading all the interesting old threads while moving them was fun!
- In the time that you have been a member here how much have things changed?
NEW SECTIONS! And the magazines are a big thing too!
- Outside FFF, what do you like to do during your free time?
Play video games, watch videos on youtube or Netflix, doodle stuff
- What's the best thing that's happened to you so far while staying here at FFF?
Making friends, buying XIV and joining the FC, meeting special people
​
Last edited by a moderator: