Βρεκεκεκὲξ κοὰξ κοάξ
Staff member
Administrator
Social Media Team
Veteran
Joined

Jun 26, 2008
Messages

9,192
Location
Gil
FFXIV

Polyphemos Bromios
FFXIV Server

Moogle
Free Company

KupoCon
Meet Lawrence!
Lawrence is a Lunar Knight Loporrit who has hopped down to Earth to kick ass and take names. I'm not just being a lunatic casually reusing that expression. He will literally steal your name and give you a new, sillier name. If your name happens to be Raubahn of Ala Mhigo, Lawrence will turn you into Rowburn of Al Minging. His victims, losing all sense of self, anxiously claw at their skulls wondering if their entire lives have been a lie.
Why is this our problem? Entertainment on the desolate dark side of the moon is scarce. If it wasn't for a heavy diet of carrots, he'd hardly be able to see at all, let alone play JRPGs and browse forums. As things are, however, Lawrence is 75% carrot inside, and his perfect vision is trained on this site! If we don't kill him soon, we'll all be lost to each other forever!
Let's hop to it!
How?
Simply make a description of an attack and I will draw the injury in.
Example:
Someone may post...
'King Midas taps Lawrence on the shoulder'
Consequently, I would draw: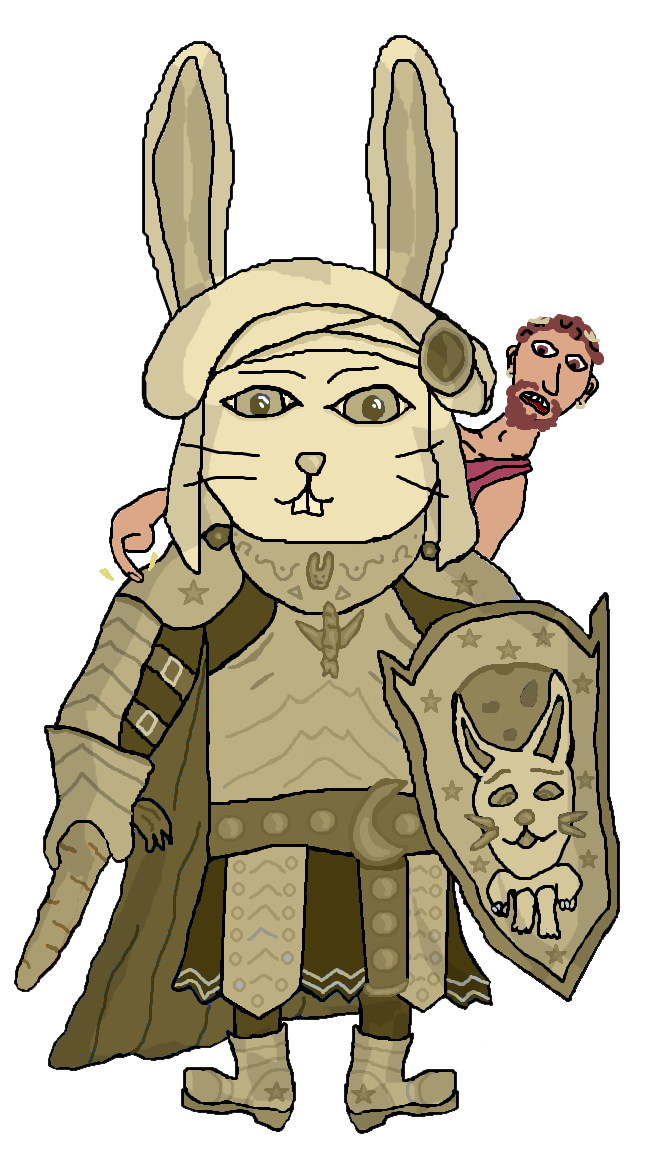 Be creative! Be warned though, Lawrence was born and bred on the hardy surface of the moon and can withstand more than you or I. You can track his current status at the bottom of this post.
To give order to this game I will be using dice to determine how much Lawrence has been damaged for each attack. (I will be using this website for the rolls:
http://www.random.org/dice/
).
Lawrence has a starting HP of 80. Each attack will minus whatever a single die rolls to Lawrence's HP.
Each person can only attack only once until the next calculation period. These calculation periods (or Turns) will essentially be whenever it is that I have been able to draw Lawrence's injuries and calculate his current HP.
Lawrence will also be healed during a Turn. 2 dice will be rolled and the sum will be added to his health! Kill him before he regenerates!
The person to land the death-dealing blow on Lawrence will be crowned the winner. The player who deals the most damage throughout the entirety of the game shall also get a prize.
Some further rules:
As always, do not ruin this by requesting naughty things to be done to Lawrence. Anything too rude and vulgar to depict in drawing will be ignored.
Also, any crazy commands such as 'decapitate Lawrence!' or 'Thanos snaps his fingers', while they will be drawn, he will not be insta-killed by such moves. The 'healing dice' of a Turn will do much to restore him.
Rewards:
1st place: 5 EXP
2nd place: 3 EXP
3rd place: 2 EXP
1 EXP will be granted to anybody who has entered this game after their first command, but no further payment will be made after any following turns.
Let's kill him!
Current state of Lawrence the Loporrit:
HP =
0
Last edited: