·
Staff member
Moderator
Veteran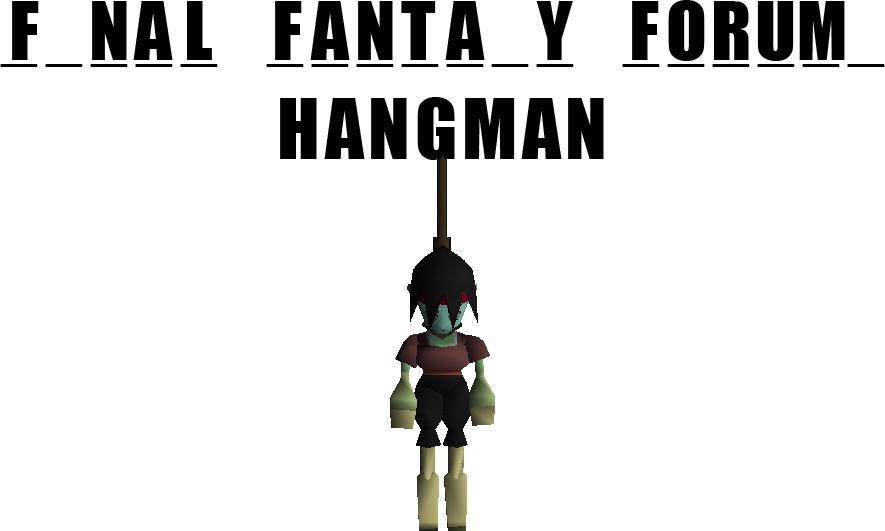 *Generic screaming audio sound here*
Happy Spookerween everyone!
It's taken us forever, a
life
time even, but we were finally able to book the ever so lovable Mr. Hangman from the Gold Saucer to come help us out for this event!
It wasn't easy getting Noppo to allow his most popular employee to come
hang
out with us for the month, but be assured it costed us at least an
arm and a leg
.
Get it? An arm and a leg?
Da Rules & How it works
The Basics
Every round starts off with a hidden series of letters that make up a name, quote, location, etc.
Every other turn
a member may post a letter to help solve the puzzle
(their turn ends even if the letter is correct)
The round ends when all
six
of Mr. Hangman's body segments are hung OR when the puzzle is solved.
Points are awarded after a round has been correctly solved.
Winners by the end of
Hangman
are determined by who finishes with the most points.
Anyone may solve the puzzle at any time
(However not multiple spam-guesses in a row)
Incorrect solves will not count against the limbs on board.
Points may be used at any time & do not count as a round
(unless you include a letter guess in your post)
*Bonus questions/actions will pop up from time to time & also may be solved at any time, during any round.
(Try & cite it here if possible)
When the final limb is hung there may be one final attempt at solving the puzzle
(and/or using points)
The final solve may only be solved by one person, first come first serve.
(Any solves following, even if correct, will not be allowed)
If no one steps up to solve the puzzle the round ends the following day
No points are awarded for a round that has failed to be solved.
I will try and get to each letter as they're posted but members are able to post immediately after the previous poster at the risk of possibly stacking up limbs.
The Points
The goal at the end of the Hangman event is to finish with the most points:
Each correct letter = +1 point
Each correct solve = +5 points
Bonus Answers = +3 Points
Some of
the rounds the words/phrases may be longer or potentially harder,
so you may use your
points for:
1 Hint = -2 point
1 Letter = -3 points
1 Save (Removes 1 limb) = -5 Points
The

Fine

Print:

As stated earlier: No points are awarded for a round that has failed to be solved.
If you bought hints during a failed round your points won't be refunded.
(They gone, gurl)
Quantity of points do not reflect the final currency handout at the end of the game, but serves merely as a means of determining 1st, 2nd & 3rd place
*Some of the Bonus questions & actions will be posted after the round has been solved to avoid unintended spoilers.
Bonus questions may be solved at any point in time, during any round, until final call has been announced.
A few of the subjects are generalized so not to give away any easy hints
It's first come-first serve: If you and someone else post at the same time with the same solve we'll let the forums determine the winner by whichever post shows first.
--------------------------------------
In theory the game should flow fine, but if we need to tweak things to make the game flow better I'd appreciate any feedback!
If you have any questions/comments feel free to post below, PM me or send a question over on Discord in the forum-events section.
*For the time being I'll react to all letters to avoid clutter in the following posts*​
Last edited: