Elf On Duty
Staff member
Global Moderator
Social Media Team
Veteran
Joined

May 17, 2019
Messages

1,627
Location
Gil
Happy Birthweek everyone! As I'm sure
many
of you are already aware, Kefka just released his own Mad Libs book today! And, as a special treat, FFF got first look at some of the pages inside!
So how about we fill out some pages for some good
laughs
!?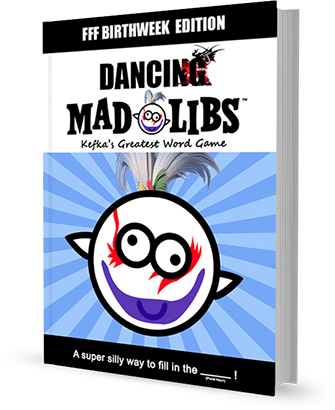 Da Rules & How it works
Each round I'll post a numbered list of words that we all will collectively fill out.
When the list is up it's up to you guys to help fill in the blanks in numerical order.
One person will fill out the first word on the list, followed up with the next person who will fill out the next corresponding word, so on and so forth.
You may post again after another member has gone after you or after the round has ended.
The round ends when there are no more words to fill out.
Try and slip in as many Final Fantasy related words as possible!
Any username spots can be your own or someone else!
Feel free to ask any questions within this thread, or via PM to me!
~
Noun: A person, place or thing.
ex. Director, Bus Stop, Apple

Plural Noun: Multiple things instead of just one.
ex. Directors, Bus Stops, Apples

Proper Noun: A noun that identifies a single entity and is used to refer to that entity.
ex. Bobby Corwen, Midgar, Sony

Adjective: Describes a noun.
ex. Tipsy, Empty, Red

Verb: Action words.
ex. Jump, Kick, Attack, Heal

Adverb: Describes the action.
ex. Painfully, Intensely, Honestly