Βρεκεκεκὲξ κοὰξ κοάξ
Staff member
Administrator
Veteran
Joined

Jun 26, 2008
Messages

8,642
Location
Gil
Mako Points
FFXIV

Polyphemos Bromios
FFXIV Server

Lamia
Cegling Games:
Pass
the
Parcel!
​
One of the most celebrated aspects of Christmas is when families or friends gather, gift presents to each other and play games together. Despite their irregular existence, FFF's ceglings are no different.
Unfortunately for them, Mogrinch (who has been a
thorn in the side of FFF's Christmas activities since 2014
) has recently been released from prison and has inserted himself into the lives of the ceglings. Claiming to be their uncle, the naive little darlings have taken Mogrinch at his word and have entrusted him with providing presents for their post-dinner game of 'pass the parcel'...
Uh-oh! Mogrinch has deliberately swapped the fluffy teddies, sweet candies and toy whistles with bombs, diseases and other dangerous tricks! Cheeky Mogrinch!
But this is Christmas! Under no circumstances should the cegling post-dinner game of pass the parcel be cancelled. Will you help them play? Which ceglings will suffer horrible deaths?
This is all up to
you!

Rules:
One parcel is in play at a time (depicted on a graphic that I shall update).
Players simply type which cegling they want to pass the parcel to.

For example: "Snowmitts passes the parcel to Panter Paws"

A randomly generated number for each pass determines when the parcel will be opened. It'll be different each time. The cegling holding the parcel at this time shall be eliminated from the game.
You do not have to pass the parcel in any particular order, but do not neglect a cegling. If you fail to pass to a cegling for too long then they will freeze to death.
I shall update the graphic each time the parcel is opened.
The cegling left standing at the end shall be declared the winner!
People can pass more than once for each round so long as two others pass before you pass again.
The first two passes for each round are safe. So don't be alarmed by picking up the parcel to begin with. From then on the RNG determines when it shall be opened.
Don't worry. The ceglings will respawn at the end of this game so all
deaths will not be permanent
. We have our best white mage on standby!
Participation?
You
do not need to be a parent
of a cegling in order to participate in this game. All human participants will receive rewards, but clearly the parents shall benefit the most from this game as all parents (whether participating or not) shall accrue rewards for the efforts of their children. The parents of the cegling/s who win shall receive better prizes.
The prizes will be determined at a later date.
The Ceglings:
If you are unsure which ceglings you would like to pass the parcels to, see
this post
for their bios and parents.
Current state of the game (will be updated after each parcel is unwrapped):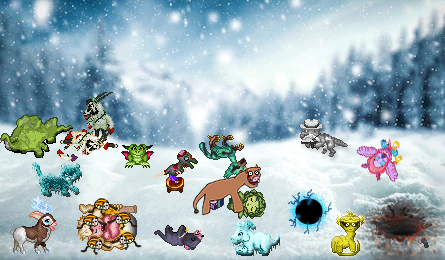 Eliminated ceglings:

= Death by La-HEE!
= Turned to gold
= soul invited to Socrates' Spirits in Suspenders Symposium party!
= turned into a frog
= frozen to death
= sucked into the Void
= ripped apart by his evil twin brother
= caught Geostigma
= swallowed by a snake
= blown to smithereens
= frozen to death
= petrified
= turned into a zombie!
= attacked by a plague of oglops
= trampled by the Hilltop Cow
-
If you have any questions, ask.
Last edited: