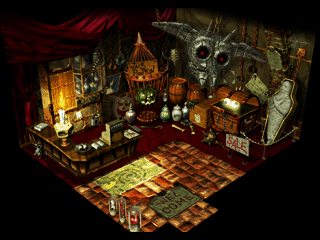 It was dark, save for the full moon. The sorrowful howl of a wolf shook the frightened Mog from his favourite tree. As Mog ran through the dark forest the trees grew faces and snapped and clawed at the poor moogle. 'Home Sweet Home', Mog thought as he leapt into his bed and pulled the sheets over his little head.
'He he he!', Mog heard.
Mog peeked warily. It was just his pumpkin-head on the windowsill.
'B-but I don't have a pumpkin-head, kupo!' Mog gasped.
'He he he!!!! Wark!!!'
The Headless Chocobo-Man leapt off his feathery steed and floated through the open window into the unfortunate moogle's bedroom.
Mog awoke in a pool of sweat, clutching his own neck and begging for mercy.
'A terrible nightmare, kupo!'
Mog decided that everybody on FFF should share his experience this Halloween!
-
It is now October and Halloween is approaching. Final Fantasy Forums shall be hosting a Halloween mini-event this year!
Keep your eyes peeled for particular event threads (including a Trick or Treat game, a haunted house game, and a Halloween Costume Game Screenshot competition).
Prizes and other details shall be posted in due course.
This article was originally published in forum thread: Halloween '15: An FFF event. started by Dionysos View original post